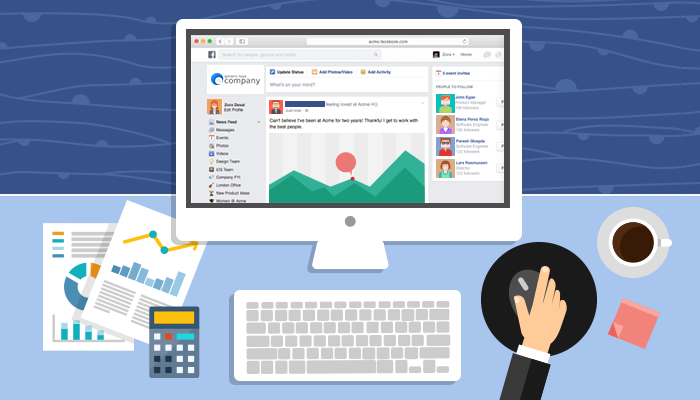 'Facebook at Work' Introduced to Companies and Offices
Do you feel guilty about logging onto Facebook while at work? Soon you won't feel bad about browsing through your News Feed while accomplishing tasks in the office anymore—well, sort of.
Back in November 2014, the Financial Times reported that Mark Zuckerberg and his associates were "secretly working on a new product called 'Facebook at Work,'". This product is designed to facilitate office communication between colleagues. The report further stated that Facebook at Work will enable users to "chat with colleagues, connect with professional contacts and collaborate over documents." [See Figure 1]
It's not the first time that news about Zuckerberg's latest brainchild has surfaced. In June 2014, TechCrunch reported that an at-work version of Facebook was being developed, referring to the site as "FB@Work". The article claimed that it will indeed offer internal communications between office superiors and employees. However, there was no confirmation of this until this year.
On January 14, 2015, the social media giant rolled out Facebook at Work to select companies via the iTunes App Store and Google Play, along with another version available on its main website. Spearheading the project is Facebook Engineering Director Lars Rasmussen, who told TechCrunch that their initial target user base is made up of companies with 100 or more employees.
"When an employer adopts Facebook at Work, they can construct it with a set of new accounts. Users can then link their work and personal accounts together so that they are logged into both at the same time," Rasmussen said. He added, "Even if the employee chooses to link there is no crossover. The content stays entirely within your personal or work Facebook." Based on Rasmussen's description, this new product is expected to make the workplace and internal communications more efficient and structured.
Facebook at Work's design will still be identical to the regular Facebook platform, except for the presence of ads or apps. Furthermore, users must take note that privacy will not be a priority, as anything posted on the user's feed is set to visible to the whole company.
Rasmussen, however, explained that Facebook at Work's strength lies in the fact that it is modeled after the internal communication service which Facebook has been using for the last 10 years. "When Mark [Zuckerberg, the CEO] makes an announcement he just posts it on Facebook at Work," Rasmussen said.
The Facebook at Work app is already available for download on iOS and Android. For more information about Facebook at Work, users may fill out this form.
Do you think companies should incorporate Facebook at Work into their offices?

The Marketing Digest Writing Team provides the content you need to keep you well-informed on the latest developments and trends in the digital marketing industry.

Latest posts by Marketing Digest Writing Team (see all)
Comments
comments