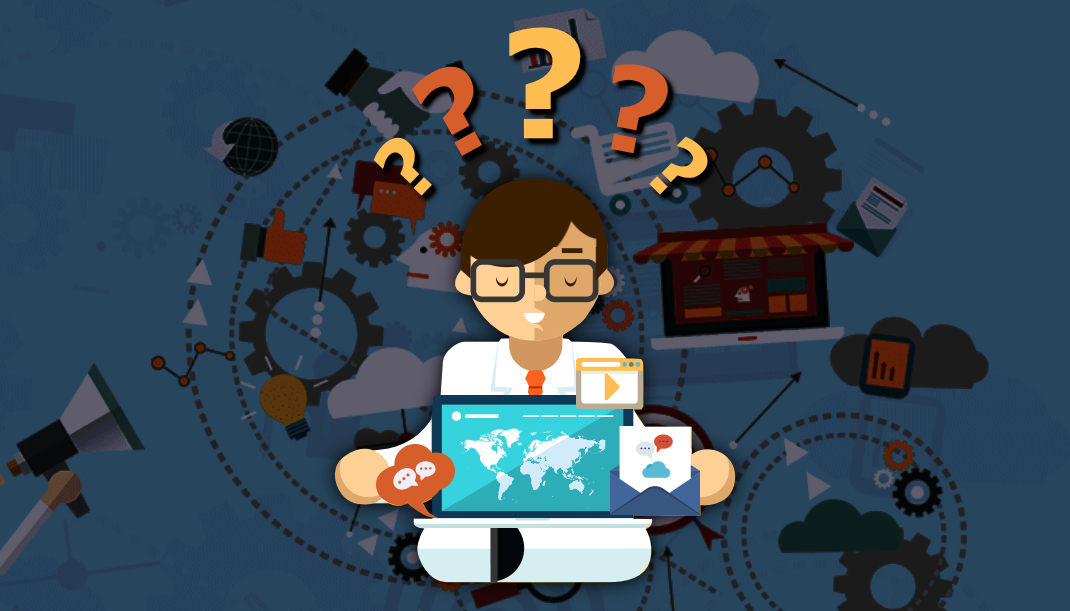 Life rarely happens in a straight line.  I didn't graduate High School with the objective of being a marketing consultant – digital or otherwise.
Heck, when I graduated, the Internet wasn't even a "thing" yet!
Skip forward a few decades.
Losing It
In 2014, the day I was downsized from a job I'd worked my way up to over 5 years, was pretty devastating.
If you're one of the many who has experienced this, whether during the 2007 crash or after, you know what I mean.
I actually survived the '07 crash, but working at the front desk of an upscale hotel, I remember dozens of guests calling to cancel their business reservations, because they had just been let go by their company.
My time came several years later, when the management company I had worked my way up to be the technical support director for, decided that they no longer wanted to be a "technical support company".
I didn't have a long string of technical certifications after my name either.  So the job I no longer had wasn't very transferable.  Nor did I want to go back into the trenches of hotel operations.
Of Shoes and Ships and Sealing Wax
Having spent a fair amount of my tech support time working with the websites of the hotels in our management group, I decided to expand on that experience and try to become a local Internet marketing consultant.
Spending some of my meager savings, I took an (expensive) online course from one of the big-name Internet Marketing gurus.
Disappointingly, the course was long on "why" I would want to be an Internet marketing consultant (laptop lifestyle, large monthly retainers from grateful local business owners), but short on actually "how" to be one, or how to actually provide the services.
Worse, much of the material seemed woefully out of date by a couple of years. The success examples seemed to be guys with the gift of gab, able to sell ice cubes to Eskimos, not average schmoes like me, trying to break into the game.
Step Right Up
I am not a natural-born salesman.  Some of my most disastrous previous jobs have been in sales. Cold calling or "dialing for dollars" leaves me cold.
Nor was I well connected in my town, or my former industry.  No previous business associates begging for me to take them on as a client. No extended circle of friends to look to for referrals.
So how do you break into the business of being a respected consultant in a field you haven't really worked in, and don't have a wall full of diplomas for?
Well, it's not easy, but it can be done.
A Little Knowledge, Can Be a Profitable Thing
The "trick" – if there is one – is keeping in mind that however little you think you know, there is always someone else who knows even less, and who would rather pay you for what little you know in order to improve their situation.
Sure, they could probably learn what you know, but they very likely don't want to take the time.
Truth is, they are good at what they are good at.  They enjoy what they do. They probably don't much enjoy what you do.
I learned this in the hotel business.  I knew a great many very smart people in the company who were superb hoteliers and restaurant managers. They were great with the guests, and with managing the staff, but they didn't know a lot about computers or the Internet.
Nor did they particularly WANT to know.  For them, it was much more useful to pay someone else to take care of the issue for them, or to explain things to them in the Readers Digest "For Dummies" version, using very short, very simple words.
If you keep this in mind, it will go a long way towards instilling and reinforcing in you that very critical sense of confidence – confidence that what YOU know, is worthy enough of someone else paying for.
Confidence is key, if you want to be a successful consultant.  If you don't have it yet, at least pretend. "Fake it until you make it"!
Nevertheless, He Persisted
The other key is PERSISTENCE.
Rome wasn't built in a day.  Nor is a successful consulting practice, regardless of your field.
It takes time to get the word out there, to build your credibility, and to build your reputation as a reliable and knowledgeable authority in your field.
As I said, I am not the glad-handing, back-slapping gregarious sort of sales guy who can walk into any room cold and walk out again with a fist full of hot leads and signed contracts.
For me it's been as much a matter of keeping my face "out there", attending and becoming part of networking groups, slowly becoming recognized as "the guy" to call for insights into how to do Internet marketing.
Eventually it starts to happen.  I first picked up a job to build a website for a local provider of merchant account services, who was a member of a networking group I joined.
Then another job came along.  And another.  Even a managed SEO campaign.
I shamefully under-priced my work, grateful for the gigs and for the opportunities to show what I could do, to develop my knowledge and skills, and to build my reputation as an Internet marketing expert.
Even today, I keep my eyes open for "targets of opportunity", people or groups who need help promoting their business or organization on the Internet, who maybe you would not have thought of targeting in a full-blown campaign.
Even pro-bono jobs for non-profit groups, can be a great way to showcase your talents, and your work.
Good Things Come
After a couple of years, I'm finally starting to see work come my way by itself.  My reputation is becoming established.
My face and name are getting to be known – and trusted.  I am able to charge more for my services (which is much easier to do when they come to you for help, than if you are trying to "sell" them on something).
And trusted … yeah, about that "reputation" thing …
It's absolutely critical.  There are a lot of shady characters out there selling "Internet marketing services".
Every day, business owners are getting slammed with countless emails and phone calls from unknown people selling everything from mobile websites, to Pay-Per-Click and SEO – and even crazier schemes.
And, after shallow (or no) results and having lightened the client's wallet by hundreds or thousands of dollars, they disappear – on to cold-calling the next desperate mark.
Don't be one of "those guys".  Once you get a job, no matter how small it seems, give it 120%.
Give twice as much value as you are paid for.  It's ultimately an investment in your future. Happy, satisfied clients will send you much more business.
Honesty – Still The Best Policy
Be totally honest.  Do your best to manage your client's expectations, but don't ever lie or exaggerate.
Not every client is going to get positive ROI from every service, but if there is a good case for giving something a go on a trial basis, say so.
I recently had a client ask me what I thought about a PPC campaign we'd been running for him for about 3 months.  I told him that honestly, it had been worth a try but I didn't see the ROI coming back to him, or getting any better.
Could I have kept it going for a few more months to milk it?  Probably – and if I was one of those fast-talking, glad-handing, back-slapping types, maybe even longer.
It was a white-labeled service, so I gave up a couple of hundred dollars a month in margin, but I'm able to sleep at night – and I'm not constantly peeking through my curtains at strange vehicles parked across the street. My client is not a big company, so those click and management fees were a significant amount for him to spend, without seeing at least as much coming back in increased sales.
Now, he's been reinforced in the knowledge that I am not going to lead him down the garden path, and that I won't spend his money unnecessarily.
Not only will I likely keep him as a client for his website management (and other Internet marketing needs) for the indefinite future, but I've no doubt he will give me a good review to anyone he knows who needs marketing guidance or services.
Champagne Dreams and Caviar Wishes
So, have I achieved the fabled "laptop lifestyle", sipping Mai Tai's on the beach while I remotely rake in the riches of my vast Internet empire?
No.  Not even close.
On the other hand, every day, I'm a half-step ahead (sometimes a whole step) of where I was yesterday.  My stable of clients grows slowly, month by month, as well as my portfolio of completed projects.  I keep increasing my knowledge, and improving my skills.
The result – I'm starting to see those unsolicited referrals come in.  My client retention is good. Slowly I'm able to worry a lot less about whether I'll be able to pay the bills at the end of the month, and where my next job and client will be coming from.
It's easy to become discouraged watching the supposed superstars of Internet marketing shoot to the top – the young twenty-somethings with the pictures of their mansion(s) and expensive cars, selling out their .com startup for six or seven figures after 5 years.
The Future
Internet marketing is fast becoming a mature industry.  Slowly, and through the visionary efforts of industry pioneers like Paul Stinemetz and the Advanced Marketers Institute, it is also becoming more professionalized.
If you're one of the "shooting stars" of online marketing, I'm glad for you. You won't have learned a thing from this post, and you won't have needed to.
For the rest, remember you are laying a foundation for your future. Treat your marketing consultancy as a true profession and not as a "get rich quick" scheme, and you will go far.
Opportunities will open up to you, most unexpectedly, and often in the most unexpected of places.
Remember, as sales and marketing superstar Zig Ziglar is famous for saying, "You can have everything in life you want, if you will just help enough other people get what they want."
— 73 —

Chris is an independent digital marketing consultant in the Wausau, Wisconsin area working with local businesses and organizations to expand their company and professional brands using the best social media and online marketing methods available. He is the author of "The Savvy Business Owner's Guide To Successfully Marketing Your Local Business On The Internet",available for free on his website www.breckshire.com/savvyguide.

Latest posts by Chris Nelson-Jeffers (see all)
Comments
comments