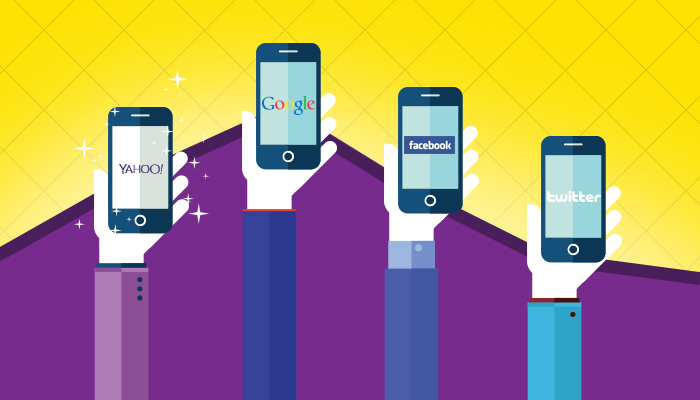 Yahoo Will Experience Large Mobile Ad Revenue Increases in 2015-2016
Yahoo saw some significant increases in its mobile advertising revenue this year. The company's decision to advance its mobile advertising began with its acquisition of Flurry—and slowly but surely, it has increased its market share, giving both Google and Facebook a run for their money.
Over the next few years, Yahoo is expected to overtake Twitter for the first time in net U.S. mobile ad revenue share, according to eMarketer's forecast, which was announced on December 4, 2014. While Yahoo accounted for 3.2% of the $18.99 billion net U.S. mobile advertising market this year, the company's mobile revenues project an increase of 3.74% in overall revenue by 2015, and 4.19% in 2016. Twitter, on the other hand, is only expected to grow 3.77% in 2016 [See Figure 1].
Regarding Yahoo's Q3 2014 results, CEO Marissa Mayer expressed her delight, as the company's mobile revenue is now "material," with a $200 million excess in mobile revenues on a GAAP basis. Not only that, eMarketer considers Yahoo's improvement to be "significant" as they've gained the largest increase in mobile ad revenues, with one-percentage-point growth from 2014 to 2016.
Moreover, aggregate U.S. mobile ad spending is expected to grow 50% in 2015 ($28.48 billion), and another 41% in 2016 ($40.16 billion) in mobile ad spend.
Yahoo will also experience intensive growth in net U.S. mobile ad revenues up to 2016. As presented in Figure 2 below, the company's net mobile revenues will increase 76.4% in 2015, surpassing Twitter's 55.4%, Facebook's 42%, and Google's 41.8%. Although it is estimated to drop to 57.8% in 2016, it will still experience more growth than those same companies.
Overall net U.S. mobile ad revenues will experience consecutive drops over the following years, from 78% this year to 50% the following year, then 41% in 2016.
While Yahoo is projecting large mobile ad revenue growth for the next two years, eMarketer doesn't expect the company to beat Google or Facebook. Along with Yelp and Amazon, the two dominant companies are expected to boost their shares despite being "poised to lose share as their mobile businesses mature amidst continued rapid expansion in the market."
Furthermore, Yahoo's overall ad business is "still struggling," according to Martin Utreras, Senior Forecasting Analyst at eMarketer. In fact, the company's mobile display ad revenue represents only 1.9% of the $9.65 million aggregate net U.S. mobile display ad revenue share. Despite its projected increase to 2.9% in 2015 and 3.6% in 2016, the figures are still low compared to Twitter, Pandora, and Apple's iAd [See Figure 3].
eMarketer adds that Yahoo's mobile search share is higher compared to its display ad share. The company accounted for 4.9% of the total U.S. mobile search ad share in 2014, which is projected to slowly increase to 5.2% in 2016.

The Marketing Digest Writing Team provides the content you need to keep you well-informed on the latest developments and trends in the digital marketing industry.

Latest posts by Marketing Digest Writing Team (see all)
Comments
comments