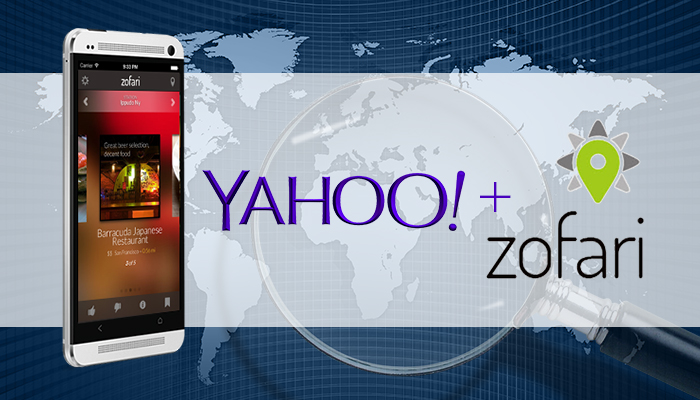 Local-search startup Zofari has recently joined Yahoo's growing list of acquisitions, with the latter focusing on strengthening its local search capabilities. The announcement was posted on Zofari's official website, stating, "While we've built an experience we couldn't be more proud of, we're a small company and have always dreamed of reaching users at a greater scale. After meeting some of the amazing folks on the Yahoo Search team and hearing about their vision, the decision for our team to join Yahoo was an easy one."
The team added, "We can't talk about what we're working on yet but needless to say we are very, very excited."
Zofari describes itself as a "Pandora for Places," in reference to the online radio platform that creates personalized music lists. Similarly, the app generates recommendations from users for local hangouts, such as cafes and bars, to create customized stations that users may like. Results update automatically whenever a user transfers location.
One of the features the app is most known for is its "super-fast" delivery of user-customized results. "Whether you're visiting a new city or exploring your hometown, our goal is to help you stop wading through results that all look the same, and get you to the places you'll love, fast," Zofari says in their official description.
The move to purchase Zofari is Yahoo's attempt to improve local search in the face of services from Google, Yelp, and others. Because Zofari aims to "deliver brilliant local recommendations in the fastest way possible, and essentially, make the world an easier place to explore," the smartphone recommendation app can match Yahoo's goal to bolster local search. It now joins the more than 35 service apps acquired by Yahoo since Marissa Mayer took her position as the company's CEO more than two years ago.
What do you think of Yahoo's move to acquire the Zofari app? Will it be beneficial to the company's local search improvement initiative?
Share your thoughts in the Comments section below!

The Marketing Digest Writing Team provides the content you need to keep you well-informed on the latest developments and trends in the digital marketing industry.

Latest posts by Marketing Digest Writing Team (see all)
Comments
comments