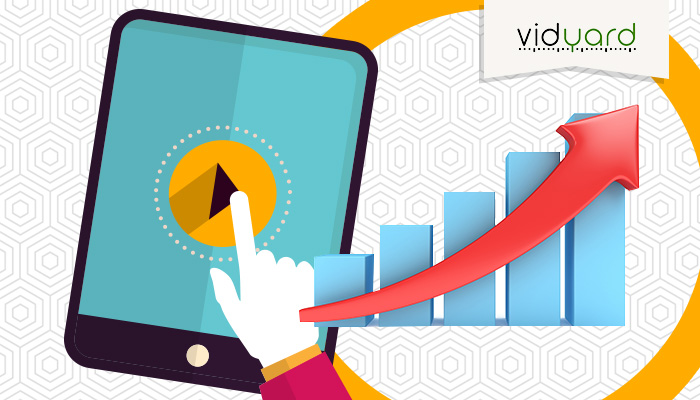 Survey: Video Content Marketing Delivers High Conversion Rates & ROI
A new survey from video marketing and analytics platform Vidyard revealed that marketers who incorporate videos into their strategies are more likely to achieve successful conversion rates and higher ROIs. Previously, Vidyard had conducted a benchmark report in June to learn more about the industry. They concluded that 70% of B2B marketers are using video presentations, with 82% of them reporting success.
As seen in Figure 1 above, 48% of respondents said that the ROI of video content marketing is changing for the better. Indeed, video has certain attributes that appeal to a wider and more engaged audience. In today's online world, a simple banner ad is not enough to drive interest, which is why companies have began buying ad time on video platforms or using short, easy-to-digest videos to promote their products and services. It shouldn't be surprising, therefore, that at least 69% of survey respondents said they have plans on increasing their video marketing budget.
Interestingly, as Figure 2 above shows, a combined 95% of the survey respondents now consider video to be vital when it comes to sales and marketing. According to Vidyard, over "one-third of large companies produce more than 100 marketing videos annually," and 70% of them believe video "performs better than other content." This gives credence to why marketers have been turning their attention to the medium, considering the amount of videos that are uploaded to the Internet daily. In YouTube alone, more than 100 hours of video are uploaded each minute.
Marketers, however, were not keen on presenting their videos on just one platform. As seen in Figure 3 above, 63% of the respondents said they preferred to host videos both within their own website and via an external one like YouTube and Vimeo. The survey notes that this is "a best of both worlds approach when it comes to video distribution," and while obviously a very vital resource for videos today, Vidyard stresses that strategies focusing on YouTube alone are not very effective.
235 respondents across B2C, B2B, and agencies participated in Vidyard's latest survey.
Have you also started seeing higher conversion rates and ROI in your video content marketing? Shout out your experiences in the Comments below.

Paul Stinemetz is the founder Paul Stinemetz, Inc., a consultancy focusing on the needs of digital marketing agencies.

Paul is also the founder of Endlessrise and the Advanced Marketers Institute.

Paul Stinemetz was the first person to found a digital marketing agency that was 100% exclusively dedicated to only servicing marketing agencies on a white label basis. This company was called Endlessrise and was founded in 2008. Over the next 8 years Paul held true to his word and never accepted a retail client and made it possible for thousands of marketing companies to efficiently grow their retail digital marketing firms with low overhead, affordable service costs and elite leadership and coaching.

Paul not only led this industry but became known as one of the top marketing agency coaches. He went on to build one of the largest marketing platforms in the world and build an elite overseas operational marketing team.

Through his years of experience working hand in hand with small to large marketing agencies, Paul has spent the majority of his professional career building services, specialized operations, software, marketing material and coaching programs to help digital marketing agencies succeed.

Paul stands out as a unique consultant of his caliber and is unparalleled as a marketing agency consultant.

Paul is also the founder and current president of Advanced Marketers Institute, an educational platform that trains marketers on how to establish a consultancy based marketing company and intricate instruction on best consulting practices.

Latest posts by Paul Stinemetz (see all)
Comments
comments