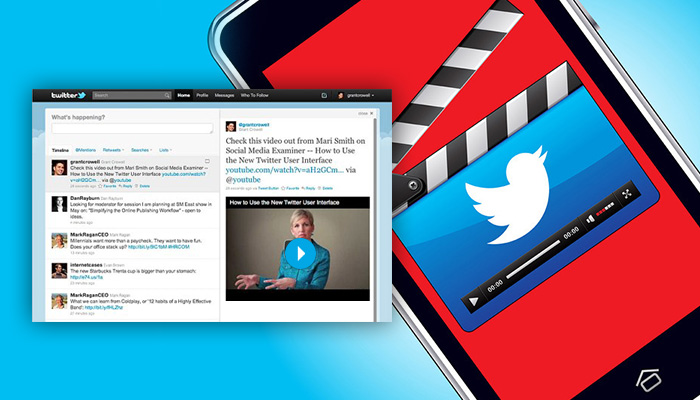 Twitter's New Promoted Video Enhances Advertiser Experience
Advertisers on Twitter can now use videos to promote their campaigns as David Regan, Senior Product Manager for TV and Video, announced a beta test for Promoted Video today after months of experiments.
Promoted Video is Twitter's newest set of video tools that "streamlines video playback" on both mobile and web. It also brings a "one-tap viewing experience" which allows users to access content they are interested in much more easily and quickly. Tests have shown that tweets containing native Twitter Video generate greater engagement and views than before.
Promoted Video beta testing is only open to advertisers and verified users labeled by Twitter as "high-quality content producers." There was no word about expanding this service to all users. They demonstrated a sample Tweet from the NBA with native video earlier this year.
Promoted Video is built upon Twitter Amplify, a video content promotion tool launched in May of last year by Twitter CEO Dick Costolo and his team. It started out with short videos of sports highlights and tornado footage in an attempt to combine TV and Twitter for an enhanced user experience. With Promoted Video, advertisers can now take advantage of Twitter's efforts to bring that experience into their Ads. Regan says that Twitter intends to improve the advertiser experience because they want to add videos in users' timelines "to create a richer and more engaging Twitter."
Twitter has been aiming to make ad campaign setup easier by introducing new ways to optimize campaign performance. Aside from making video upload and distribution easier, high-quality content producers now have the ability to run ads with the new Cost Per View (CPV) ad buying model. Advertisers will only be charged ad fees when a user plays the video. Furthermore, Twitter provides advertisers with the ability to measure the reach and effectiveness of the content because they are given access to video analytics, "including completion percentage and a breakout of organic vs. paid video views," states Regan.
"Video is an incredible storytelling medium," says Regan, and Twitter wants to provide advertisers with the ability to share organic and Promoted Video on Twitter. Advertising partners wanting to start using native video were told by Twitter to contact their account representatives to learn more about the service to get started.
Will Promoted Videos make Twitter a better advertising platform? Let us know what you think by sharing your insights below!

The Marketing Digest Writing Team provides the content you need to keep you well-informed on the latest developments and trends in the digital marketing industry.

Latest posts by Marketing Digest Writing Team (see all)
Comments
comments