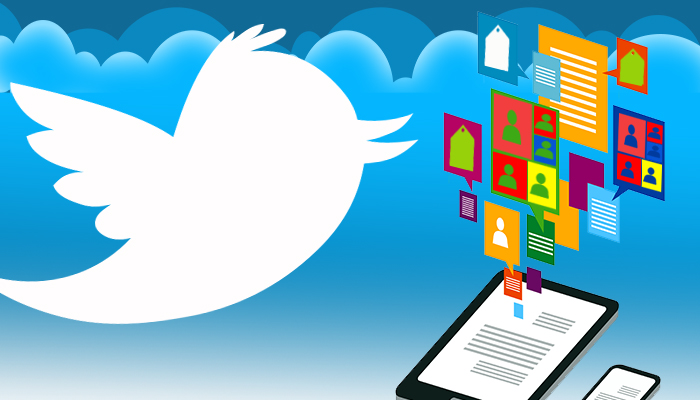 Photo Tagging & Photo Collages: Twitter Unveils New Mobile Features Designed to Make the Site More Social
Twitter has been unusually quiet for the last couple of months. However, the company has just announced some cool new mobile features that are designed to make Twitter more social. The first new feature is photo tagging; which lets users tag up to 10 people in a photo, and the second new feature is photo collages; which lets users include up to four photos in a tweet.
Photo tagging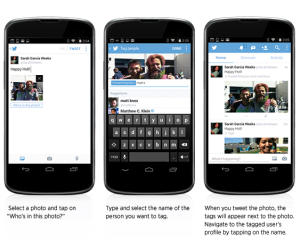 According to Twitter's official blog, "Tagging people in a picture makes conversations around photos fun and easy. And tagging doesn't affect character count in the Tweet—you can tag up to 10 people in a photo and still have all 140 characters at your disposal, making it easier to connect with your friends."
Just like Facebook, users who are tagged will receive notifications, and users can adjust their notifications (and specify who can tag them) in their Settings. Photo tagging is sure to delight Twitter users, as it makes the social networking service more interactive. With photo tagging, users can connect with their contacts in a more meaningful way.
Twitter's new photo tagging feature can also be leveraged by online marketers and businesses. As Twitter continues to develop its photo tagging feature (by allowing more accounts to be tagged in a single photo tweet, for example), professionals, businesses, and ordinary users will find creative ways to leverage this feature and meet their goals.
Photo collages
Users can now share up to four photos in a single Tweet. However, photo collages are currently only available on the iPhone, though it is coming soon to both Android and twitter.com. Photo collages can be viewed on Android, iPhone, and twitter.com.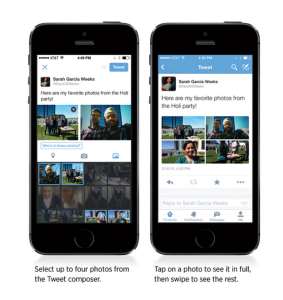 Aside from making it more convenient for users who want to share groups of photos with their followers, photo collages also offer online marketers and businesses a new means of optimizing their social media marketing strategies.
As demonstrated in the following photo collage from General Electric, the new feature can help companies deliver more interesting and targeted content to Twitter users.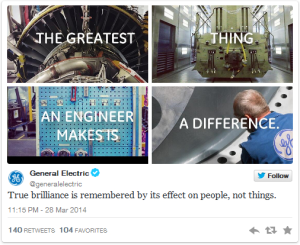 The four photos that form the collage are visually striking, and each forms part of a compelling narrative that delivers a strong message to its audience. Moreover, the photo collage's textual and visual content is complemented by the tweet's actual textual content, True brilliance is remembered by its effects on people, not things.
Photo collages can also be used to preview content on landing pages. For example, instead of just tweeting about new ebooks or products with landing page links, businesses can include a photo collage of the products being featured. By giving Twitter users concrete examples of the offerings available on landing pages, users are more likely to click on the landing page links.
Twitter announces major profile redesign
Twitter announced last month that they were working on a major web profile redesign. The end result will be a user profile page that bears a striking similarity to Facebook and Google+. Though Twitter isn't straying from micro-blogging anytime soon, the profile redesign will feature visual images more prominently in tweets, as well as larger profile pictures and profile header photos.
What do you think of Twitter's new mobile features? Do they add value to the social network? Are you looking forward to Twitter's web profile redesign? Let us know in the comments section, or make a reply-blog post.

The Marketing Digest Writing Team provides the content you need to keep you well-informed on the latest developments and trends in the digital marketing industry.

Latest posts by Marketing Digest Writing Team (see all)
Comments
comments