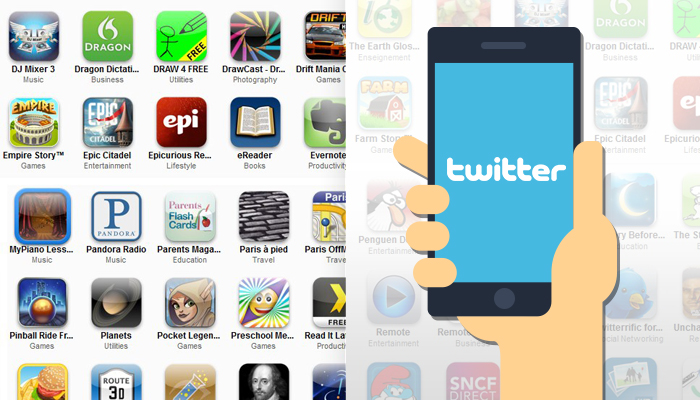 Twitter Rolls Out App Tracking for iOS and Android Users
Twitter has been making improvements to its advertising platform to enhance user experience. It started with an algorithm that allowed tweets from people users don't follow to appear on their timeline; then came an algorithm that provides "Who to follow" suggestions to users based on factors such as their email or phone contacts, as well as their follow history.
In order to deliver more tailored content to users and more effective ad targeting, Twitter recently announced that it has started tracking apps installed on mobile phones. Re/Code first reported this announcement on November 26, 2014, noting that the update automatically collects information from smartphones unless a user disables the feature.
Based on Re/Code's report, Twitter's aim for the update is "to learn more about its user base so it can make more money selling ads." Re/Code says tracking the mobile apps users have downloaded will provide more data to better fulfill Twitter's objectives.
While looking through an individual's smartphone to collect information could be negatively interpreted by some individuals and privacy advocates, Twitter still prioritizes the privacy of its users. The new feature allows developers to gather only the list of apps users have installed, and not the data within the apps. Sensitive data include frequency of app usage, information shared using the app, songs users listen to, etc.
Android and iOS operating systems already allow third parties to collect this kind of information. Re/Code gives a detailed account of how both operating systems gather app data:
On iOS, for example, developers can ping a user's device at any time and recall a list of apps that are currently running on their smartphone. If they ping the device often enough, the developer could piece together a user's entire app library…

On Android, developers can recall a list of all apps on the phone so long as they disclose their ability to do so within the app's terms of service, according to a Google spokesperson.
Furthermore, developers can track specific apps on users' smartphones. For instance, some developers can determine if a user has downloaded the Spotify mobile app.
Before data collection occurs, Twitter shows a user an in-app notification about the new data policy. Users who disagree with the policy can opt out of the feature by adjusting their phone settings. Moreover, according to "people familiar with the update", all information previously gathered from the user's smartphone will be removed from Twitter's servers.
While this could be another issue of privacy, Re/Code says that the update will help Twitter bring in new users. A new user's timeline will automatically populate with content based on the user's downloaded apps. "Instant timeline", which is automatically generated by Twitter for new users based on topics they have selected at the beginning of their sign up, was first talked about on November 12, 2014, during Twitter Analyst Day. According to Twitter CEO Dick Costolo, its aim is to prevent new users from seeing blank or "unhealthy" timelines after signing up.
This update was rolled out to iOS and Android users on November 16, 2014.
For more information on the new data policy and how the update works, visit the App Graph section under "Security and Privacy" on Twitter Support.
What's your take on Twitter's new data policy? Let us know your opinions in the Comments below.

The Marketing Digest Writing Team provides the content you need to keep you well-informed on the latest developments and trends in the digital marketing industry.

Latest posts by Marketing Digest Writing Team (see all)
Comments
comments