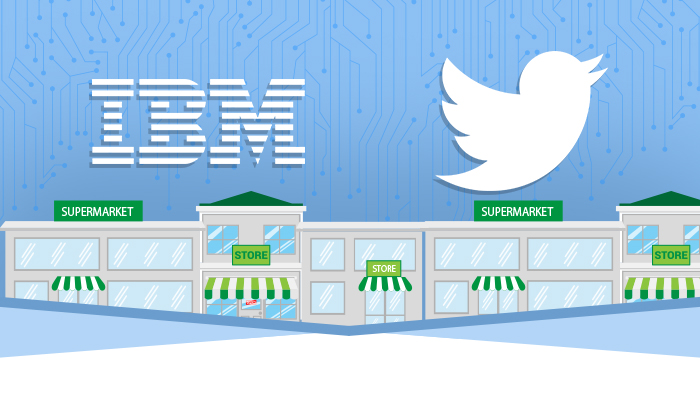 Twitter-IBM Partnership Announced, to Focus on Data Insights
Twitter and IBM have announced a major partnership that would enable enterprises to incorporate Twitter's public data into their decision-making processes via IBM tools, consulting services, and solutions. As announced by Twitter's Vice President for Data Strategy, Chris Moody, the microblogging site sees social data as having "unlimited value," with limitless application.
As a constant, collective stream of real-time thoughts and reactions to events, Twitter prides itself as being an "enormous public archive" full of ideas and opinions that many major companies have tried to understand, but do not always have the means of fully grasping. Moody believes that IBM has the expertise to offer this insight, citing the company's experience with complex data systems, and how they have helped companies make the most of emerging technologies.
With questions such as, "What do customers want?" and "Why am I big in Japan?" being asked by major enterprises, the partnership will allow IBM to understand "multi-variable, pattern-dependent questions" that companies want answered from their customers.
Likewise, IBM Chairman, President, and CEO Ginni Rometty acknowledged the power of Twitter's social data, calling it "a new lens through which to look at the world." In a press release, she hailed the company as both a platform for consumers and professionals, as well as a trendsetter that she believes can benefit from IBM's cloud-based analytics. With this partnership, Rometty sees IBM reimagining work once again by helping clients enrich their business with more insightful and actionable data.
As per IBM, the partnership is set to focus on three main aspects:
Integration of IBM analytics services with Twitter data on the cloud:IBM wants to offer Twitter data as part of select cloud-based services. Entrepreneurs and software developers can also integrate Twitter data into new cloud services they are building with IBM's Watson Developer Cloud or IBM Bluemix platform-as-a-service.
New data-intensive capabilities for the enterprise: IBM and Twitter will deliver a set of enterprise applications designed to positively impact business decisions across industries and professions.
Specialized enterprise consulting: IBM Global Business Services professionals will have access to Twitter data to enrich consulting services for clients; these include collaborations to develop unique solutions for specific industries.
Twitter CEO Dick Costolo called IBM the "undisputed leader" in making companies take advantage of emerging technologies, and stressed the importance of this partnership. A quick summary of the new partnership can be found here.
What do you think of this partnership between IBM and Twitter? Can both parties provide better and strategic business decisions with their combined resources, as promised? Let us know your opinions in the Comments section below.

The Marketing Digest Writing Team provides the content you need to keep you well-informed on the latest developments and trends in the digital marketing industry.

Latest posts by Marketing Digest Writing Team (see all)
Comments
comments