Searchmetrics Publishes Lists of Panda 4.0 Winners and Losers
Yesterday, Google began their rollout of Panda 4.0 and Payday Loan 2.0. Both algorithmic updates were confirmed by Matt Cutts on Twitter. The revised Panda algorithm is code-named Panda 4.0, and is designed to remove low quality content from Google's SERPs. Google's Payday Loan algorithm, on the other hand, targets spammy queries, and is not related to the Panda algorithm.
Lists of websites that have lost or gained traffic from Google following these periodic algorithmic updates have consequentially become popular. Searchmetrics—a leading provider of software, API, and SEO services—has just released their "Panda Update 4.0: Winners and Losers – Google USA" report. This report ranks popular websites that have received drops or increases in search-driven traffic from Google.
Searchmetrics carried out an immediate analysis following the updates to Panda 4.0 and Payday Loan 2.0. Marcus Tober of Searchmetrics states that their data is based on the organic SEO visibility for each domain for all researched keywords, and is compared to their last data point. The actual traffic generated by each domain—for example, direct traffic—can differ from the values stated in the Searchmetrics report.
"The lists are ordered by absolute loss / gain, which is shown in the respective column as rounded percentage. Basis of the analysis are domains that at least had a value of 10000 SEO Visibility before Panda 4.0 and [now show] a change of at least +/-20 %," stated Tober in the report.
Panda 4.0 Losers: Ask.com, eBay.com, Biography.com, and Retailmenot.com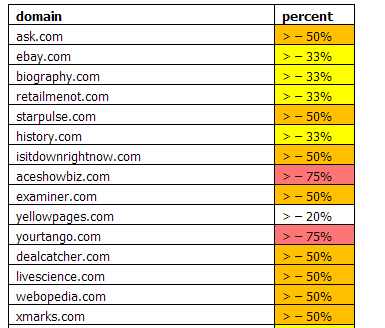 The top losers are Ask.com, ebay.com, biography.com, and retailmenot.com. "As expected, the update mainly relates to the content area. In the loser list you will find a strong number of aggregators who mainly ranked with information from external sources," notes Tober. Losers include aggregators of coupons and syndicated news, as well as price comparison websites, forums, and weather portals.
Panda 4.0 Winners: Glassdoor.com, eMedicineHealth.com, Medterms.com, and Yourdictionary.com
Paradoxically, a lot of aggregators were also on the winner's list. "Particularly strong are some price and product [comparison] sites, health pages and some local aggregators. The conclusion is therefore somehow unclear. It is possible that the Panda update is still not fully rolled out, so we will keep you updated," stated Tober.
Verdict: It's Still too Early to Make a Definitive Conclusion
Tober admits that the report is far from conclusive and should be treated as a preliminary analysis. Other factors may account for the organic SEO visibility loss of some domains. While many aggregators that display little original content have lost organic SEO visibility, other aggregators have actually gained stronger rankings.
Panda 4.0 is expected to impact 7.5% of English language search queries, while Payday Loan 2.0 (according to Matt Cutts) is expected to impact about 0.3% of searches in the United States. For the latter, the penalties are immediate: URLs of offenders are completely removed from the index.
Tober said that Searchmetrics will analyze their data more clearly within the coming days, and will provide a more definitive report soon.

The Marketing Digest Writing Team provides the content you need to keep you well-informed on the latest developments and trends in the digital marketing industry.

Latest posts by Marketing Digest Writing Team (see all)
Comments
comments