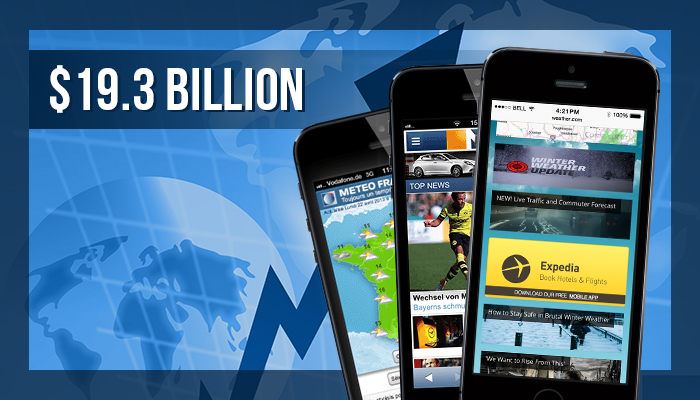 Global mobile advertising revenue nearly doubled its previous year total with 92% growth, according to figures released by Interactive Advertising Bureau and IHS Technology.
Rising from a total of $10.1 billion in 2012 to $19.3 billion in 2013, the surge was mainly attributed to the massive percentage growth of advertising formats such as mobile display, mobile search ads, and messaging ads.
Growth in mobile display advertising accounted for a 123.4% increase; mobile search ads followed its lead with a 92.1% growth, while messaging ad revenue grew by 19.4%. Search remained the dominant segment with 48.9% of the global mobile advertising revenue at $9.5 billion.
Here is the share per region of the global figures, as revealed by the IAB and IHS report: [See Figure 1]
North America: 41.9% ($8,100 million)
Asia-Pacific: 38.9% ($7,525 million)
Europe: 17.3% ($3,346 million)
Middle East & Africa: 1.2% ($225 million)
Latin America: 0.7% ($144 million)
Meanwhile, statistics showed that the Asia-Pacific region ($3,336 million) in 2013 maintained a marginal lead in mobile display advertising ahead of the rapidly growing North American market ($3,275 million).
Regional ranking in mobile search advertising based on ad revenue remained unchanged, with North America leading ($4,312 million), followed by Asia-Pacific ($3,233 million), Europe ($1,817 million), the Middle East and Africa ($62 million), and Latin America ($35 million).
On the other hand, accumulated mobile messaging ad revenues showed that the gap between smaller and larger mobile advertising regions is less pronounced (See Figure 2).
IAB's Mobile Marketing Center of Excellence Vice President and General Manager Anna Bager saw these results as proof of mobile's "rapidly increasing role as a vital part of the marketing media mix." She stated:
In particular, as mobile ad campaigns become easier to plan, create, buy, and measure – in great part due to programmatic strategies – these operational efficiencies are spurring the growth of the mobile display ad market. And, this impressive rise in mobile advertising is unquestionably a worldwide phenomenon, with strong year-over-year upticks being seen in every corner of the globe.
Daniel Knapp, IHS Director of Advertising Research and author of the report, added that 2013's global mobile revenue sizing was driven by various developments in the world of mobile advertising with focus on marketing technology improvements, as well as rising smartphone penetration.

The Marketing Digest Writing Team provides the content you need to keep you well-informed on the latest developments and trends in the digital marketing industry.

Latest posts by Marketing Digest Writing Team (see all)
Comments
comments