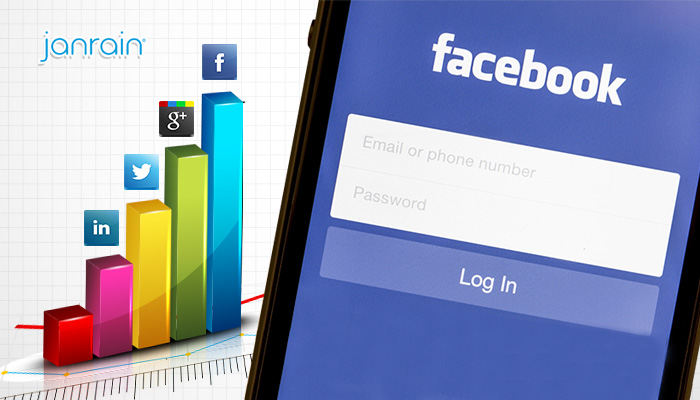 Janrain's Report Reveals Facebook's Lead in Social Login Shares in Q3 2014
More users log in across the web using their Facebook accounts, making the social networking site the most preferred social login provider, according to Janrain's quarterly report on social login preferences, which was released today. Facebook races ahead of the other login providers with 46% of recorded social logins in the third quarter of 2014. [See Figure 1]
Many people find logging in with their existing social accounts more convenient when registering on other sites. This practice has become popular over the years because it helps reduce "the need to create and remember yet another username-password combination," thus speeding up the process of creating an account and logging in. The vast majority of users have come across social login, and about half of them are actively using it. Furthermore, 91% of them are satisfied with the benefits of social login.
According to Janrain's study, Facebook outpaced other social networking and email identities with a 2% increase in market share from the previous quarter. The social media giant has been experiencing consecutive growth in two quarters, resulting in an unbeatable position at the top of social login providers since Q1 of 2011.
Meanwhile, Google ranks second, with 34% of users stating that they preferred it as their social login provider. Google locked horns with Facebook in Q1 of 2014, but continued to drop consecutively until Q3 with a 3% fall in market share. Despite this, Google still remains Facebook's strongest competitor in terms of social login. [See Figure 2]
The quarterly report also segmented consumer preferences by site types—such as media, consumer brands, entertainment and gaming, music, retail, and B2B social login trends. Facebook stayed on top in most of the industry segments, and experienced 10% growth last year in combined login shares on entertainment, gaming, and music sites. Janrain states that this "big gain" is mainly due to the "ubiquity of Facebook Login on popular music sites such as Spotify, Pandora and Beats Music." [See Figures 3 and 4]
Only in B2B social login trends did Google slightly beat Facebook and LinkedIn in a tight competition. [See Figure 5]
According to Michael Olson in a post on Janrain's blog:
Social logins solves the challenge of collecting accurate and complete profile data without harming your acquisition rates. Social login transforms any registration process into a single click and makes it simple to get permission to access rich demographic and psychographic data.  This customer profile data will help improve segmentation, personalization and targeting efforts.
Do you find social login to be more convenient when registering across the web? What do you think of the competition between Facebook and Google in terms of social login preference? Let us know your insights in the Comments section below.

The Marketing Digest Writing Team provides the content you need to keep you well-informed on the latest developments and trends in the digital marketing industry.

Latest posts by Marketing Digest Writing Team (see all)
Comments
comments