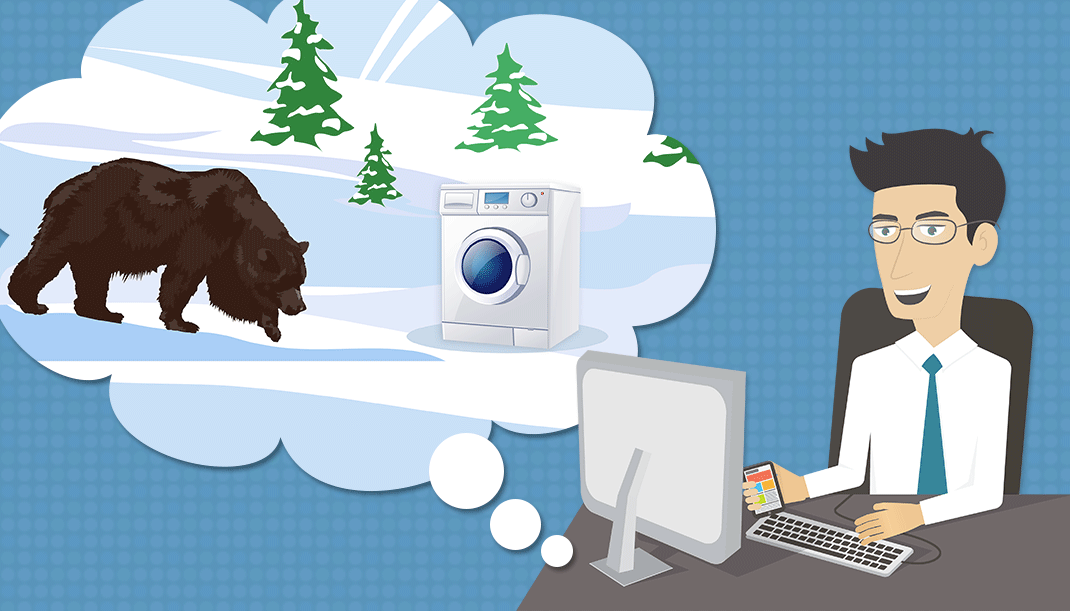 Razor-Sharp Marketing Ideas: Review of Samsung's Hilarious ecoBubble Video



The Product: Samsung ecobubble™ Washing Machine (@Samsungtweets)
The Video: "Huge Bear Surprises Crew on EcoBubble Photo Shoot in BC"
How They are Marketing: Mockumentary
(Note: The word "mockumentary" is a combination of the words "documentary" and "mock." Mockumentaries present fictional events documentary style.)
Target Market: Environmentally conscious consumers
Quick Run-through: A crew uses the Samsung ecobubble™ Washing Machine in a frozen environment, to prove that it can use cold water to wash as effectively as warm water, when the demonstration is interrupted by a bear who does some silly antics.
Ninja Trick: The bear comes into the scene and adds humor. The video gets progressively funnier and more outrageous, which keeps the viewer engaged much longer. (YouTube looks at viewer engagement for ad relevance.)
Subtle Message: Samsung is trying to demonstrate that its cold water washing machines work better than other washing machines. While the ecobubble™ could have stopped at cleaning the bear's fur, it went a step further and actually whitened it! The fact that the cleaning was done using ice cold water in a very frigid environment really anchors the marketing message.
Marketing Ideas You Can Use:
Combine facts with emotions: Companies and brands love to share facts about their products, with many companies basing their marketing on a logical premise. However, psychology has shown that consumers "buy on emotion and rationalize with logic." In other words, while it is okay to use facts, this has to be tied to the emotional response you wish to elicit from your customers. Humor is a great emotional catharsis that also helps break down barriers.

Show 'em, don't just tell 'em: Anyone can recite the features of their product, but to truly capture your audience's attention and drive home your marketing message, you'll need to show your product in use. Don't be afraid to go overboard and add a bit of your business "culture" to your marketing message. If your message is simple, make the demonstration minimalistic. If your message is complicated, give a Rube Goldberg machine kind of demonstration. The key is to show your product in use, and provide a visual comparison that the viewer can "catch".

Take the message beyond what is expected: When you take your product to a whole new level, you gain attention in a crowded marketplace. The Samsung ad could have just said, "We wash better in cold water than other washing machines." Instead, Samsung went beyond this simple marketing message and connected with the audience by creating a funny "mockumentary". The ad seems "real" in the beginning, and then turns the corner and introduces outrageous antics courtesy of the grizzly bear. While the viewer is engaged and cannot wait to see what happens next, the main marketing message is never lost on the viewer.

Don't force the product: I know this might sound contrary to current logic and understanding, but watch the video again. The video doesn't "force" the sale; it simply introduces the concept. As a matter of fact, you have to "look" to find what the product being advertised is. When a consumer has to "look" for the product, they're more likely to remember the product.
Insight into Current Trends in Video Ads:
Mountain Dew (@MountainDew) conducted an experiment on YouTube with its Mountain Dew Kickstart commercials. Mountain Dew ran three types of commercials: one version had the product logo and slogan at the end, the second version had minimal product logos, and the third, "viral" version had no product logo or slogan. The results?  The "viral" version got more views and shares, and the absence of product logos did not affect product recognition.
As business owners, we can learn a lot from analyzing the creative work of marketers in various industries. I hope this article gave you at least one tip that will help you in your industry. Implementing just one idea could give you a leading edge in your industry. After all, if you are doing what everyone else in your industry is doing, how will you ever stand out?
Note: If you would like me to review any video ads you've seen, drop me a note and I will see about adding it to our list.
Businesses need to have a strong presence online.I help new businesses develop a powerful website and connected social media.Branding and marketing strategy are keys to growing your business.After over 20 years in the Marketing and Advertising world, I have learned that business growth starts with a good message, sent to the right audience with a solid product/service.
Latest posts by Lyle Huddlestun (see all)
Comments
comments