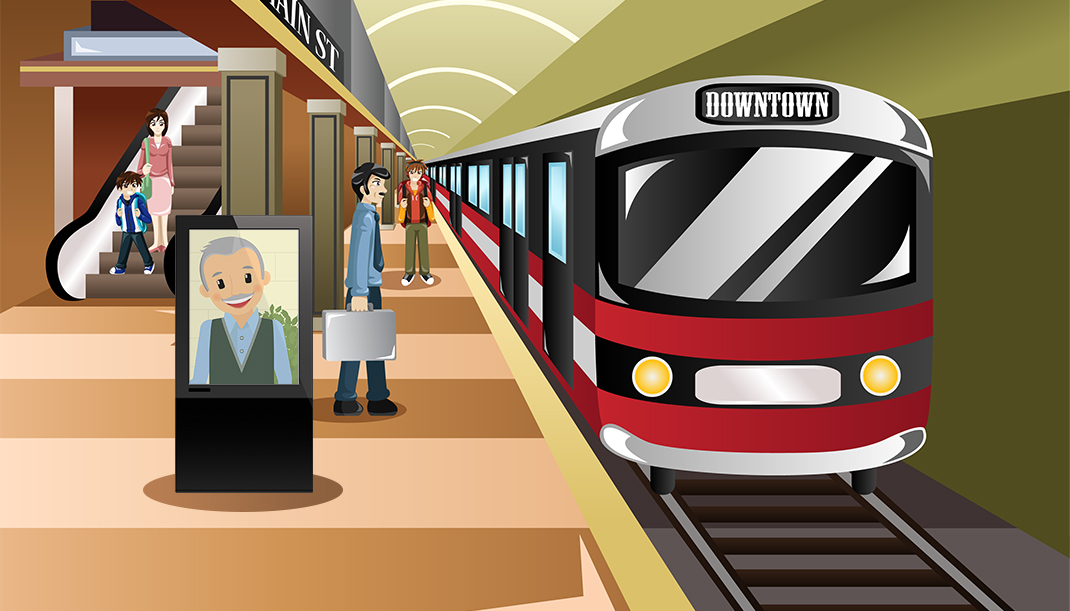 The Client: Graubünden Tourism (@Graubunden)
Agency: Jung von Matt (@jungvonmatt)
The Video: "The Great Escape"
Target Audience: Local and international travelers who could be convinced to take their next vacation in the Canton of Graubünden in Switzerland.
How They are Marketing: Live Video Interaction/Out of home (OOH advertising)
Quick Run-Through: An interactive video screen is set up in a busy Zurich train station. Passersby can interact with a mountain man residing in the picturesque village of Vrin. He invites these passersby to come visit him in the mountains and enjoy a meal. If they agree, he prints them a train ticket and asks them to hop on board the next train bound for Vrin.
Ninja Trick: Everyone who showed up in the mountains of Vrin was featured on the interactive screen, as can be seen in the live advert. The mountain man even called a school and a boss to inform them that the student/employee would not be attending school/work that day.
Imagine the commuters walking past the interactive video screen that day. Think of the delight and surprise they must have felt. "The Great Escape" takes connecting with your target audience to a whole new level.
Subtle Message: Getting away from the city is like visiting an old friend…or making a new friend. Graubünden may be remote, but it is inhabited by warm and caring people.
Marketing Ideas You Can Use:
Strategically place your business where your potential and existing customers are. OOH (out of home) advertising reaches consumers while they are outside the home. Graubünden Tourism and its agency, Jung von Matt, took OOH advertising to a whole new level with "The Great Escape". Why not apply a similar concept to your own marketing campaigns? Imagine a "painting come to life" in the middle of an arts festival. You don't even need to rent a costly interactive video monitor, as a tablet would suffice for smaller marketing campaigns. What about an interactive tablet with puppets at a kids' event? The possibilities are endless when you strategize outside the box. How can you get your business out of the office and into the streets?
Engage potential and existing customers with the promise of a "real" experience. Reaching out to your target audience at a time and place when they least expect you can be very effective. The promise of a powerful/and or "real" experience can make them more receptive to your message. You don't have to force a sales pitch down their throats either. I have seen people give away free hugs and invite people to have coffee at the local coffee shop. How can you go where your customers are and engage them in a "real" experience with your brand?
Put a face to your marketing and your company. I have seen too many marketing campaigns that sounded "nice" to the company, but failed to pique the interest of the target audience. They had a good corporate message, but this failed to resonate with the target audience. Remember: people buy from people. Like Graubünden Tourism's mountain man, when you put a face to your marketing campaign and your company, you present an entity that potential and existing customers can relate to. People want to connect and collaborate. How can you tap into this need in a way that aligns with your brand's goals?
As business owners, we can learn a lot from analyzing marketers in various industries. I hope this article gave you at least one tip that will help you in your business. Implementing just one idea could give you a leading edge in your industry. After all, if you're doing what everyone else in your industry is doing, how will you ever stand out?
Note: If you would like me to review any video ads you've seen, drop me a note and I will see about adding it to our list.
Businesses need to have a strong presence online.I help new businesses develop a powerful website and connected social media.Branding and marketing strategy are keys to growing your business.After over 20 years in the Marketing and Advertising world, I have learned that business growth starts with a good message, sent to the right audience with a solid product/service.
Latest posts by Lyle Huddlestun (see all)
Comments
comments