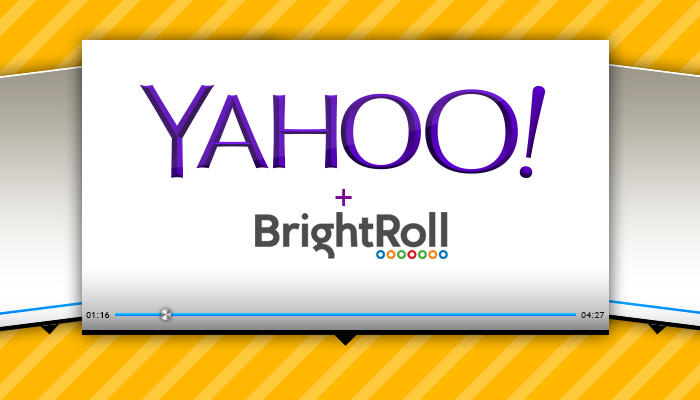 Yahoo Announces Acquisition of BrightRoll—a Leading Programmatic Video Advertising Platform
Leading programmatic video advertising platform BrightRoll has been acquired by Yahoo in a major deal that is estimated to be worth $640 million. Yahoo CEO Marissa Mayer was thrilled by the acquisition, and hailed programmatic video advertising as one of Yahoo's strategic pillars and growth businesses.
"Video is display 2.0. It's what brand advertisers love." Mayer said in her statement. "It's a format that elegantly and easily transitions from broadcast television to PC to mobile and even to wearables. This is why video is a key part of our strategy."
Mayer observes how "fragmented" video advertising on the Internet and apps have become, and that advertisers are looking for ways to buy online video advertising at scale across numerous sites via fewer and simplified transactions.
With the BrightRoll acquisition, she states that they will be able to get high-quality content publishers under a unified network and programmatic advertising "to allow real-time buying on the largest set of online video advertising inventory available." She also notes that with Yahoo's reach, they will be able to help BrightRoll scale to more advertisers globally, building "positive momentum for Yahoo's broader display advertising business in 2015."
The acquisition also makes Yahoo the largest video advertising platform in the United States. As an industry leader, it provides services for 87 of the top 100 AdAge U.S. Advertisers, the top 15 advertising agencies, and all the leading demand-side platforms. comScore also says that BrightRoll continues to serve more video ads in the U.S. than any other platform, and that the company receives over two billion requests for monetization from thousands of sites and apps.
BrightRoll founder and CEO Tod Sacerdoti was "excited" to join Yahoo, as the move would help them advance their video advertising efforts. He believes that programmatic video advertising is still an industry in its infancy, and that the merger would mean "helping grow the entire video advertising ecosystem."
Yahoo's acquisition of BrightRoll is set to be completed within the first quarter of next year. Additionally, all 400 of their employees will remain.
What's your take on Yahoo's acquisition of BrightRoll? Do you see anything major happening next year because of this merger? Let us know what you think in the Comments below.

The Marketing Digest Writing Team provides the content you need to keep you well-informed on the latest developments and trends in the digital marketing industry.

Latest posts by Marketing Digest Writing Team (see all)
Comments
comments