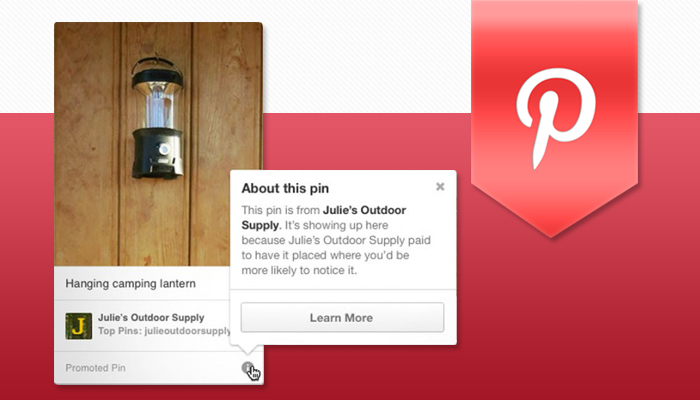 Pinterest Plans to Roll Out Paid Ads (Promoted Pins) in April 2014
Pinterest, the social media platform that allows users to discover and curate images and videos, plans to debut its Promoted Pins service as early as April 2014. These paid pins will resemble organic pins, but will carry the "Promoted Pins" label and will contain links that allow users to find out more about the pins. Joanne Bradford, who was hired to lead advertising and media partnerships at Pinterest on November 2013, stated that the company's goal is to deliver tasteful ads that possess genuine artistic value. Loyal Pinterest users can heave a sigh of relief, as the company has promised no annoying banner or pop-up ads that would compromise the site's sleek aesthetic.
Pinterest made its first foray into paid advertising in 2013, when its CEO and co-founder Ben Silbermann announced that it had begun testing Promoted Pins via the Pinterest blog. Silbermann reassured users by stating that Promoted Pins will be tasteful (no lurid banners or pop-up ads); transparent (Pinterest will always let users know if someone has paid to promote a pin); relevant (pins should be related to topics that users are interested in); and lastly, bound to improve based on user feedback.
Pinterest plans to develop its paid service with a select group of marketers. According to The Wall Street Journal, home décor site Wayfair, Four Seasons Hotels and Resorts, and Unilever's TRESemmé and Hellmann's brands are among the advertisers that have begun to quietly test Promoted Pins. Advertisers can choose between buying ads on CPM (cost-per-thousand impressions) or CPC (cost-per-click).
This will be the first revenue-generating venture for the company, which was valued at 3.8 billion in October 2013. Pinterest was launched on March 2010, and had over 70 million users as of July 2013, according to research firm Semiocast. While Pinterest is largely dominated by female users, male users are also active on the site.
Many recent campaigns have been successful. Four Seasons recently created a pin that promotes a $70,000 hotel package complete with a private jet trip to the French Polynesian island of Bora Bora. Despite the steep cost of the hotel package, the pin was repined more than 9,000 times and Four Seasons received more than 500 requests for brochures.
Other brands have been able to launch successful promotions on Pinterest. The luxury department store Neiman Marcus once offered a handbag that could only be purchased on Pinterest, while numerous brands have used "Pin it to Win it" contests to engage users and promote their products and services.
Aside from appearing across the site, Promoted Pins can also target specific searches. Hence, a user searching for wedding gowns could stumble upon paid pins from an advertiser that offers wedding gowns. Though still in its early developmental stage, numerous advertisers who recognize the potential of the new service have begun lining up for paid spots.

The Marketing Digest Writing Team provides the content you need to keep you well-informed on the latest developments and trends in the digital marketing industry.

Latest posts by Marketing Digest Writing Team (see all)
Comments
comments