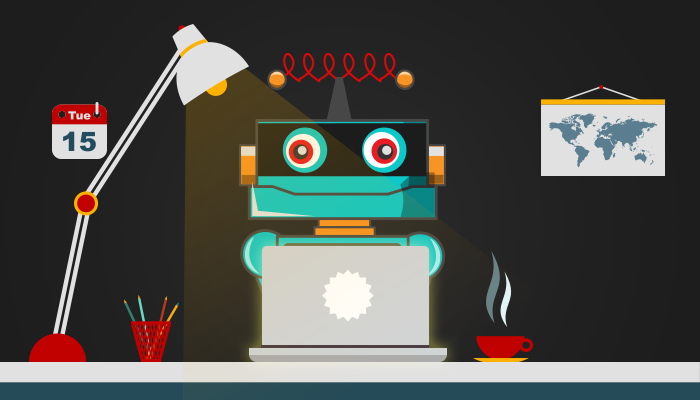 Bob or Bot? Advertisers Will Lose $6.3B to Digital Bots in 2015
Revenues derived from online advertising total in the billions, and continue to climb as it infiltrates all industry sectors. In the United States, online advertising revenues achieved a historic high of $20.1 billion during the first half of 2013. On the other hand, while online advertising is clearly dynamic, there is a dark side to this thriving, fast-paced world.
Ideally, advertisers expect online content to be viewed by human beings (who are, after all, consumers armed with the power to purchase products and services). However, an alarming percentage of traffic being driven by online content comes from fraudulent, non-human sources known as "bots".
According to a study released by the Association of National Advertisers (ANA) and online fraud detection company White Ops, the prevalence of online advertising fraud will translate to $6.3 billion in ad revenue losses worldwide in 2015. This is just one of the many astounding findings revealed in the study.
For approximately two months, researchers from White Ops thoroughly analyzed 5.5 billion impressions in 3 million domains from 36 leading companies from different industries, all of which are ANA members. These corporations include Honda, Intel, Johnson & Johnson, Ford, Nestle, Pfizer, Wendy's, and Walmart.
Titled "The Bot Baseline: Fraud in Digital Advertising," the report by ANA and White Ops reveals the full extent of the damage online ad fraud is causing to the digital industry.
The Truth about Online Advertising Fraud
Perhaps most disturbingly of all, the fraudsters who perpetuate online advertising fraud have links to organized crime, hack millions of computers worldwide, and use revenues derived from online advertising fraud to fund more criminal activities. Such groups profit by infiltrating legitimate systems, and get to work generating false ad views, ad clicks, and site visits using robotic programs.
Figure 1 contains a screenshot from a report released by the Interactive Advertising Bureau (IAB), entitled "Understanding Online Traffic Fraud". Unsuspecting consumers click on links that take them to compromised websites, or are tricked into downloading malicious software. Consequentially, consumers' PCs are infected with a malware virus, which transforms the PCs into nodes on a botnet. Figure 1 further details all the stages in the life cycle of online traffic fraud.
"Bots are smart enough to mimic human behavior, making them difficult to detect. The activity generated by these bots muddles the engagement metrics driven by real, human traffic, which dilutes the value of legitimate publisher inventory," states the report. "In addition, advertisers end up paying a material portion of their campaign dollars to fraudsters who deliver specious ad impressions that are never seen by humans."
Digital Bots are Literally Everywhere
It is clear that the online advertising industry is facing a huge threat. The study released by
ANA/White Ops emphasized that a quarter of all the bot traffic found in their study was from the world's top 1,000 websites.
"The survey confirms a deep, dark fear that people know is out there," said Bill Duggan, Group Executive Vice-President of ANA. "Digital is supposed to be this great new accountable thing, but if we know it's not reaching the right people that money is wasted."
The ANA/White Ops study, which was conducted between August and September 2014, revealed that 11% of display ad impressions were from bots. This percentage rises to 23% for video impressions, 17% for programmatic display, and 16%-22% for specific domain categories, such as finance, family, and food domains.
Third-party traffic sourcing, however, gained the biggest share of bot fraud, and over half (52%) was affected by this practice. Interestingly, bot activity spikes during midnight, when many human users have presumably gone to bed.
How does this data impact different campaigns?
Online ad fraud in video and display ad campaigns
Although display ads suffer from bot issues, video ads have greater issues to deal with. Throughout the two-month period, 11% of the total display impressions bought by the 36 companies studied were served to bots. The problem was much more evident for video impressions, with 23% of them loaded by traffic not coming from human beings. Another significant finding in the report revealed that bot traffic ranged from 2% to 100% in video placements across 25 video campaigns, averaging to about 63% of bot traffic by participant.
Online ad fraud in programmatic ads
While average bot traffic for display ad impressions was 11%, that number jumped to 17% for programmatic ad buys. This means that display ads purchased within programmatic channels are 55% more likely to be driven by bots than non-programmatic ones.
Online ad fraud in specific domain categories
"No consistent variation in bot traffic percentage was evident across participant industry verticals," notes the study. However, when bot results were correlated with domain content analysis from software company Grapeshot, ANA/White Ops researchers saw significant traffic variation across different domain categories where the ads were served.
Online ad fraud in third-party sourcing
To acquire more visitors for their sites, most publishers use traffic sourcing; in which publishers seek the help of third-party sources to drive additional unique visitors. Unfortunately for these publishers, the bot fraud rate for third-party sourcing is now 52% versus authentic human sourced traffic.
Notable schedule of bot activity
The majority of human Internet users tend to sleep during the night, resulting in a decrease in online activities. However, according to the ANA/White Ops study, digital bots will continue to surf the Internet during this period. As seen in Figure 5 above, bot activity spikes between approximately 11 p.m. and 5 a.m. Advertisers may want to consider day-parting or dialing back ad campaigns during the night to reduce bot percentage spikes.
A Wake-up Call
Aside from causing brands to waste money on ad campaigns that contain fraudulent impressions, widespread fraud could cause brands and consumers to lose confidence in digital media. To combat rampant abuse, ANA and White Ops have included a comprehensive action plan in their study for stakeholders, buyers, and publishers to consider.
Stakeholders are encouraged to work collaboratively to lessen, if not completely eliminate, bot interception in their campaigns. They are also advised to harness third-party traffic validation technology as a means of combating bot activity in their media purchases.
Getting involved with the Trustworthy Accountability Group (TAG), a marketing program designed to eradicate online ad fraud and other digital communications issues, is another way to ensure that efforts don't go unnoticed.
Buyers should also request transparency from publishers when it comes to traffic sourcing. They should also construct language in RFPs and IOs that require publishers to identify all third-party sources of traffic.
Considering these and other recommendations is a good start; however, more should be done to completely wipe out fraudulent practices from the digital ad ecosystem. Collaboration and transparency is the key.
Marketing Digest actively supports the marketers, publishers, consumers, and other parties involved who want to put an end to online advertising fraud. We encourage all those involved to take part in the industry's efforts to deal with this problem.

The Marketing Digest Writing Team provides the content you need to keep you well-informed on the latest developments and trends in the digital marketing industry.

Latest posts by Marketing Digest Writing Team (see all)
Comments
comments