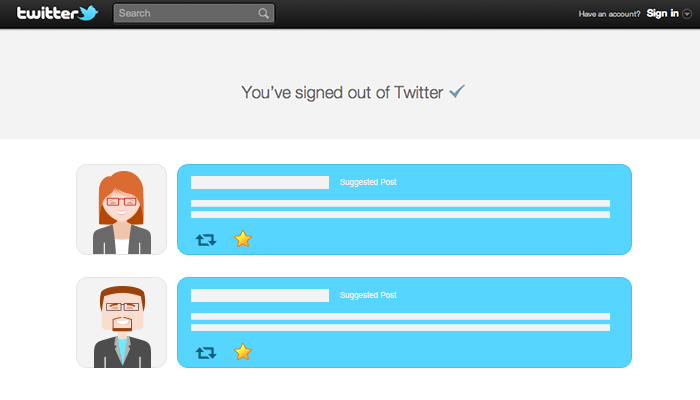 Twitter to Offer New Homepage for Logged-Out Visitors as Part of Monetization Strategy
Amidst concerns over stagnant user growth, Twitter has been stepping up its game with the introduction of new features that facilitate ad and content management on the platform. More recently, Twitter has been busy cooking up a fresh monetization strategy targeting logged-out visitors, according to a report published by Ad Age.
The Wall Street Journal reported that Twitter presented its monetization plan to media buyers at CES in Las Vegas on January 9, 2015. "The social media company is planning to sell ads within streams of tweets on other publishers' apps and websites, people familiar with the matter said," notes the WSJ article.
Although ESPN's SportCenter app and Flipboard were mentioned in the presentation, the report indicated that no deals have been made yet with either publisher.
The plan to offer an improved homepage for logged-out visitors, according to Ad Age, includes displaying paid products along with "a series of tiles featuring Twitter content, both images and text, clustered by subject matter, like entertainment and sports."
Logged-out visitors are those who visit the social network but are either not logged in or have no Twitter account. Anthony Noto, Twitter's Chief Technology Officer, earlier said that because of the massive influx of logged-out visitors to their site—claimed to be 500 million in November 2014—it may be a target for ad serving soon. "We feel with confidence that we can monetize [logged-out users] once we've nailed the consumer experience," said Noto. "Our ad team led by Adam Bain is very focused on monetizing these users."
A new homepage for logged-out visitors is just one of the recent strings of improvement initiated by Twitter. In October 2014, Twitter rolled out new location features for creating and controlling native ads on its MoPub app. Users can also expect the arrival of the social network's own native video player some time in 2015.

The Marketing Digest Writing Team provides the content you need to keep you well-informed on the latest developments and trends in the digital marketing industry.

Latest posts by Marketing Digest Writing Team (see all)
Comments
comments