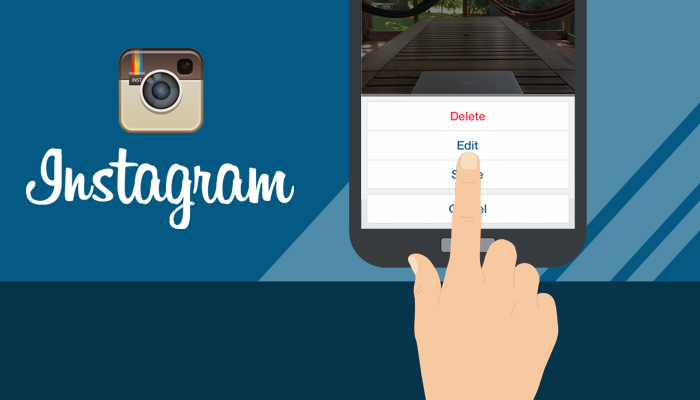 Instagram Users Can Now Prevent Typos with the New Editing Option
Yesterday, Instagram announced a bundle of updates and improvements that are designed to help users discover more interesting content on Instagram and manage their content. The social networking site has finally addressed one of the most requested options from its users, which is to "go back and edit captions" on posts. In the blog post, Instagram representatives said they were "excited" to bring this option to their users. "When you share a moment to Instagram, a typo shouldn't get in the way."
Users can now see an additional "Edit" option in the menu beneath their image, as demonstrated in Figure 1 below.
Aside from individual users, brands and businesses that maintain a presence on Instagram can also leverage this update. By letting brands and businesses edit their posts on Instagram, typos will be prevented. In the past, brands and businesses often had to delete posts with typos and other errors, even if it meant losing previous comments, likes, and other types of engagement.
Similarly, Facebook began allowing Page administrators to edit links and text-only posts on Facebook Pages in February 2014. Prior to this update, page administrators were only allowed to edit certain types of posts, such as photos.
Instagram has also updated its Explore page, changing the icon into a magnifying glass [See Figure 2]. A new tab was also added to the page to make user search faster. Users can now see two separate tabs above the Explore page—"Photos" and "People". While the Photos tab hasn't changed (it still has the same grid of photos and videos), the new People tab "highlights interesting accounts," which helps searchers discover users they may want to follow.
Users can experience the said updates by downloading Instagram for iOS version 6.2 and Instagram for Android version 6.10 via the App Store and Google Play, respectively.
Be guided with more information on these updates by visiting Instagram's Help Center.
How might these updates and improvements impact individual users, as well as brands and businesses? Let us know your opinions in the Comments section below.

The Marketing Digest Writing Team provides the content you need to keep you well-informed on the latest developments and trends in the digital marketing industry.

Latest posts by Marketing Digest Writing Team (see all)
Comments
comments