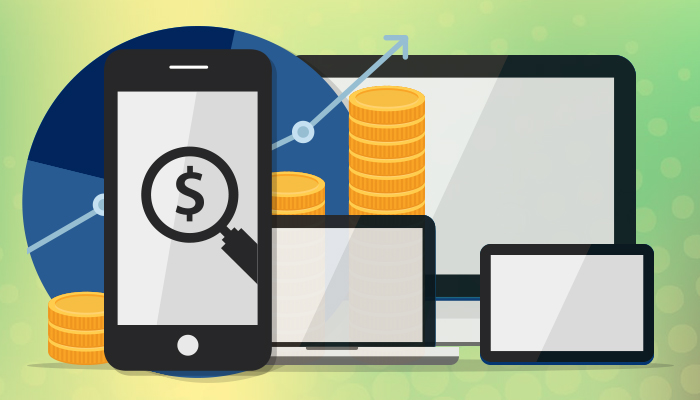 Report: Mobile's Global Search Spend Now One Third in Q3 2014
A new report from Covario shows that mobile search is not only on the rise, but is doing so at a rapid pace. For the third quarter of 2014, mobile search spending accounted for one third of all searches done, recording a 180% year over year gain, along with a 120% search volume gain. Additionally, despite desktop's dominance in searches, both smartphones and tablets accounted for 33% of all search budgets.
However, it should be noted that for the first time, ad spending in mobile changed direction. As Figure 1 above shows, more spending occurred on smartphones than on tablets for the third quarter. Even with desktop still taking a solid lead, this would indicate that more users are spending time on their smartphones browsing or looking for products to purchase, whether on the go or in-store. This shift in ad spending should motivate businesses to launch more mobile-friendly sites or apps if they want to take advantage of changing consumer behavior.
Covario's research also took note of geography and the different search engines worldwide that would affect mobile spend. Google continued to dominate across the boards when it came to CPC, CTR, and paid search due to its already larger ad units, but Bing and Yahoo continue to follow suit.
Additionally, China-based Baidu and South Korea-based Naver have begun to make their mark as well. In North America alone, search media spend went up 26% thanks to queries driven not only from the United States and Canada, but also from Chile, Mexico, and Brazil.
Figure 2 above shows the state of Paid Search during the third quarter for mobile. As stated in Covario's quarterly report, impressions, clicks, and media costs "all had large triple-digit growth increases year-on-year," while the numbers for both CPC prices and ad CTRs were a little down. Covario believes that the decrease in Global CPC is due to a "heavy discount to desktop bids" but overall, global paid search saw a 28% year over year growth, and a 16% quarter over quarter growth.
Covario's full report can be downloaded here.
Do you think mobile spending will continue to grow well into next year? How should businesses respond? Let us know what you think in the Comments below.

The Marketing Digest Writing Team provides the content you need to keep you well-informed on the latest developments and trends in the digital marketing industry.

Latest posts by Marketing Digest Writing Team (see all)
Comments
comments