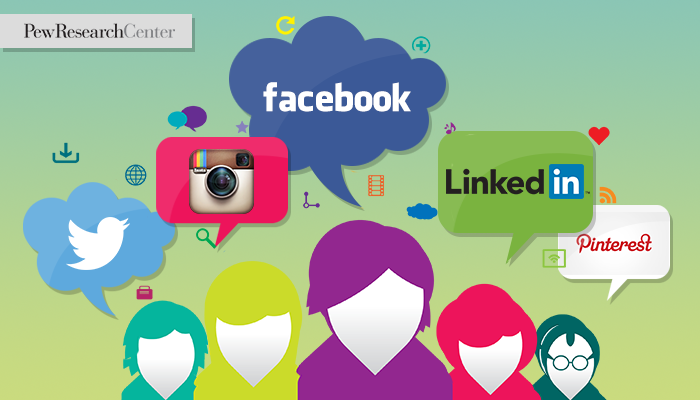 Pew Survey: Facebook User Growth Lagged in 2014, but Engagement Increased
Despite being known as the most widely used social network in the world, Facebook's growth in the United States slowed in 2014, thus paving the way for other social networks to grow. Based on a new survey conducted by the Pew Research Center in September 2014, 71% of Internet users in the U.S. are on Facebook, "a proportion that represents no change from August 2013."
Previously, 67% of adults said they used Facebook in 2012, marking a 4% user growth between then and 2013. Meanwhile, other notable social networks like LinkedIn, Twitter, Instagram, and Pinterest all showed increased user growth in 2014. [See Figure 1 below]
Despite Facebook's lack of growth in 2014, the level of user engagement on the social network has never been higher. According to the survey, users are much more engaged on Facebook on a daily basis than on other sites. As Figure 2 below shows, 70% of Facebook users engage with the site on a daily basis, and 45% login to Facebook several times a day.
As for the other end of the spectrum, 17% of Facebook users login to the site weekly, and 12% login to the site less often. The next two winners when it comes to social media engagement are Instagram and Twitter. According to the survey, 49% of Instagram users engage with the site on a daily basis, while 36% of Twitter users engage with the site on a daily basis.
Meanwhile, among the different major social networks, Instagram had the biggest jump in users with a 9% increase from 2013 to 2014. With Pew observing the rise of multi-platform use, it can be assumed that Instagram's close association with Facebook may have played a role in its growth.
One notable observation from Figure 2 is the "significant decrease" in users who spend time on Twitter daily, going from 46% in August 2013 to just 36% in 2014. Countering these findings, a spokesman for Twitter has commented on Pew's data, telling the Wall Street Journal that Pew's findings are "so remarkably wrong as to be laughable." The spokesman added that 48% of Twitter users in its top 20 markets (including the U.S.) use the site daily.
The Pew survey also indicated that Pinterest and Twitter have expand their user base among "a variety of demographic groups," while LinkedIn grew among its already popular demographic of professionals and college graduates.
I am the Founder & CEO of Local InSites, a brand optimization company that is passionate about helping local businesses grow their presence and their profits online.

We have a large range of clients from established professionals like lawyers and dentists who are looking for new ways to attract clients to their practices to brand new businesses that understand the importance of having an online strategy to launch their company and establish their brand in the marketplace.

We offer a full range of services including Reputation Marketing, SEO, Social Media Optimization, Web Design, Business Consultation and much more.

Our talented staff knows their stuff and prides themselves in listening and understanding their clients needs and then creating and executing a plan that delivers results.

Located in the beautiful Okanagan Valley of British Columbia, Canada, we have clients throughout North America and Internationally.

It doesn't matter where you are, we understand the importance for your company to optimize your brand and market locally.
Latest posts by Caroline Williamson (see all)