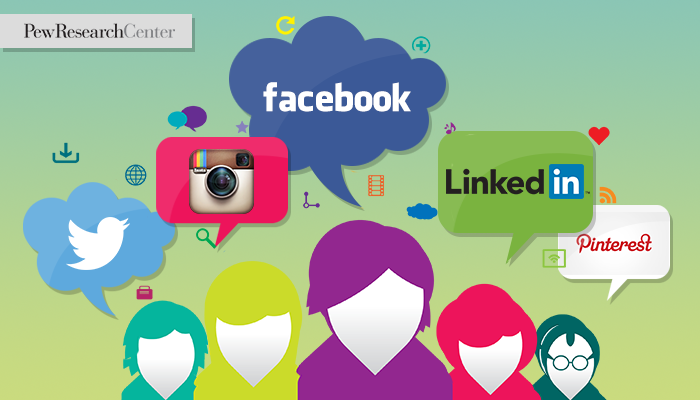 Pew Survey: Facebook User Growth Lagged in 2014, but Engagement Increased
Despite being known as the most widely used social network in the world, Facebook's growth in the United States slowed in 2014, thus paving the way for other social networks to grow. Based on a new survey conducted by the Pew Research Center in September 2014, 71% of Internet users in the U.S. are on Facebook, "a proportion that represents no change from August 2013."
Previously, 67% of adults said they used Facebook in 2012, marking a 4% user growth between then and 2013. Meanwhile, other notable social networks like LinkedIn, Twitter, Instagram, and Pinterest all showed increased user growth in 2014. [See Figure 1 below]
Despite Facebook's lack of growth in 2014, the level of user engagement on the social network has never been higher. According to the survey, users are much more engaged on Facebook on a daily basis than on other sites. As Figure 2 below shows, 70% of Facebook users engage with the site on a daily basis, and 45% login to Facebook several times a day.
As for the other end of the spectrum, 17% of Facebook users login to the site weekly, and 12% login to the site less often. The next two winners when it comes to social media engagement are Instagram and Twitter. According to the survey, 49% of Instagram users engage with the site on a daily basis, while 36% of Twitter users engage with the site on a daily basis.
Meanwhile, among the different major social networks, Instagram had the biggest jump in users with a 9% increase from 2013 to 2014. With Pew observing the rise of multi-platform use, it can be assumed that Instagram's close association with Facebook may have played a role in its growth.
One notable observation from Figure 2 is the "significant decrease" in users who spend time on Twitter daily, going from 46% in August 2013 to just 36% in 2014. Countering these findings, a spokesman for Twitter has commented on Pew's data, telling the Wall Street Journal that Pew's findings are "so remarkably wrong as to be laughable." The spokesman added that 48% of Twitter users in its top 20 markets (including the U.S.) use the site daily.
The Pew survey also indicated that Pinterest and Twitter have expand their user base among "a variety of demographic groups," while LinkedIn grew among its already popular demographic of professionals and college graduates.

Paul Stinemetz is the founder Paul Stinemetz, Inc., a consultancy focusing on the needs of digital marketing agencies.

Paul is also the founder of Endlessrise and the Advanced Marketers Institute.

Paul Stinemetz was the first person to found a digital marketing agency that was 100% exclusively dedicated to only servicing marketing agencies on a white label basis. This company was called Endlessrise and was founded in 2008. Over the next 8 years Paul held true to his word and never accepted a retail client and made it possible for thousands of marketing companies to efficiently grow their retail digital marketing firms with low overhead, affordable service costs and elite leadership and coaching.

Paul not only led this industry but became known as one of the top marketing agency coaches. He went on to build one of the largest marketing platforms in the world and build an elite overseas operational marketing team.

Through his years of experience working hand in hand with small to large marketing agencies, Paul has spent the majority of his professional career building services, specialized operations, software, marketing material and coaching programs to help digital marketing agencies succeed.

Paul stands out as a unique consultant of his caliber and is unparalleled as a marketing agency consultant.

Paul is also the founder and current president of Advanced Marketers Institute, an educational platform that trains marketers on how to establish a consultancy based marketing company and intricate instruction on best consulting practices.

Latest posts by Paul Stinemetz (see all)
Comments
comments