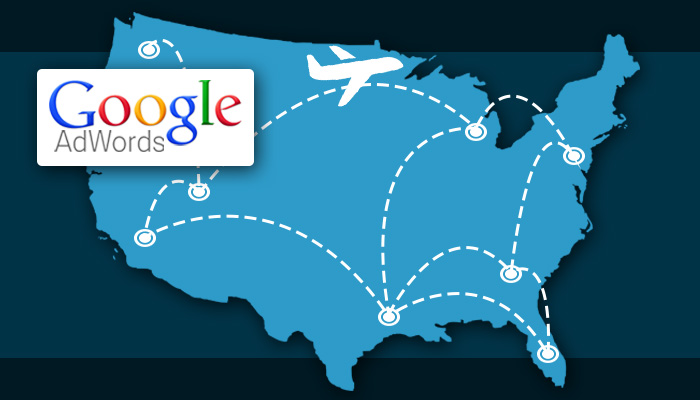 Key Takeaways from AdGooroo's Annual Review of Travel and Paid Search
With the unofficial start of the 2014 summer travel season just around the corner, search marketing intelligence company AdGooroo has just released its annual review of Google AdWords activity in the American travel sector. "In all, nearly 12,700 travel advertisers spent $750 million sponsoring more than 50,000 travel-related keywords on U.S. Google AdWords in 2013, averaging a 4.18% click-through rate and an average cost per click of $0.86," stated Jim in the annual review.
According to AdGooroo's infographic (Figure 1) on the highest-spending categories in Paid Search in the United States, travel was the 7th highest-spending category, which was significantly lower than in other developed countries like the United Kingdom, Canada, and Australia (2nd place); and France and Germany (3rd place). Shopping ranked first in the United States, followed by financial services and computers and Internet.
As demonstrated by the following table (Figure 2), the 2013 rankings for the Top 10 travel advertisers on Google U.S. AdWords desktop/tablet impressions contain the exact same companies as last year, though their actual rankings have changed.
The most notable jump on the list was Booking.com, which went from 7th place in 2012 to the top spot in 2013. Kayak.com had previously owned the top spot in 2012 but tumbled down four places to 5th in 2013. Both sites are owned by Priceline, whose own flagship site—Priceline.com—made it to 3rd place in 2013. "Between all three sites, Priceline accounted for more than 35% of all paid search travel impressions garnered by the ten sites in the ranking," noted Jim.
The European-based Booking.com saw a rise in popularity across the Atlantic last year thanks to commercials that aired in the United States. The Amsterdam-based online booking portal has already established itself as one of the highest spending companies on Paid Search among all advertisers (not just in the travel sector) in the UK, France, Australia, and Germany. In the United States, Booking.com was ranked 11th in Paid Search spend among all advertisers in 2013.
AdGooroo also looked at the top 20 most clicked travel keywords from January to April 2014 in an attempt to gain insight into the travel plans of consumers this summer (Figure 3):
Figure 3
"Although Expedia.com was only #4 in Paid Search impressions (and spent more than any other travel advertiser on Paid Search…its branded keyword 'expedia' was clicked more times by consumers than any other travel keyword. Similarly, Travelocity.com did not make the Top 10 ranking for Paid Search impressions, but its branded term 'Travelocity' was the third most clicked travel keyword behind the generic term 'cheap flights,'"stated Jim.
The top 20 list demonstrates that many Americans are more concerned with getting the best or most affordable flights than flying with a specific airline. Branded keyword clicks could also be partially attributed to membership or loyalty programs that some travelers have with certain airlines.
Incidentally, Malaysia Airlines also managed to make it to the Top 20, but this was most likely related to the news surrounding Flight MH370 at the time.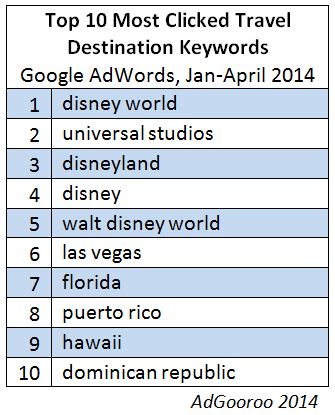 Figure 4
As for the top 10 most clicked travel destination keywords from January to April 2014 (Figure 4), perhaps unsurprisingly, the top 5 most clicked travel destination keywords all pinpoint to family-friendly destinations, such as Disney theme parks and Universal Studios. For those traveling without their families, Las Vegas is the preferred destination at 6th place. Popular travel destinations outside the continental United States include the Dominican Republic, Puerto Rico, and Hawaii.

The Marketing Digest Writing Team provides the content you need to keep you well-informed on the latest developments and trends in the digital marketing industry.

Latest posts by Marketing Digest Writing Team (see all)
Comments
comments