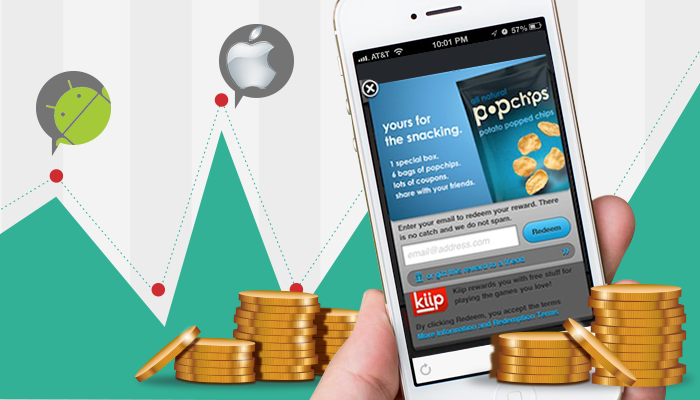 2014 Year-end Report: iOS Gains Highest Mobile Ad Revenue despite Android's Increasing Traffic
Lately, the mobile advertising market seems to be a tight race between iOS and Android. At the close of 2014, Apple retained its lead in mobile ad revenues, in spite of the increasing mobile ad traffic being credited to Android.
According to the recently released report by Opera Mediaworks called the "State of Mobile Advertising," Android took the majority of mobile traffic in the fourth quarter of 2014, but iOS continued to be the leader in revenue generation. Apple represented 51.67% of ad revenue and 27.18% of mobile traffic to close out the year, while Android trailed with a 41.20% share in revenue despite generating outstanding ad impressions and accounting for 62.69% of traffic among all mobile operating systems. [See Figure 1]
Apple's favorable position in western markets—such as the United States, Germany, and the United Kingdom—has contributed a lot to its market revenue lead. "In these markets, rich media and video advertising are more common and the high volume of mobile application usage (vs. mobile browsing) drives a robust user acquisition market," the report stated.
iPad's noteworthy percentage of revenue has also contributed to Apple's success, representing nearly 13% of monetization, while accounting for less than 5% share of impressions. With the previous quarter seeing a peak at more than 17% of revenue and 7% traffic, the iPad continues to "show remarkable monetization capabilities."
Meanwhile, Android's lead in mobile traffic seemingly resulted at the expense of other key industry players like BlackBerry and other feature phones. These devices are "losing the most share to the newer platforms," according to the report, dropping to just 10% of ad impressions in 2014 from 25% in 2011.
Opera Mediaworks also revealed that the "Games" category displayed impressive growth in 2014 for both shared traffic and revenue, nearly gaining similar results with the "Music, Video, and Media" category—the consistent leader among all three categories since 2011.
Lastly, the report revealed that "the United States still drives the greatest share of both traffic and revenue." This was followed by the Asia-Pacific region and Europe, as shown in Figure 2 above.

The Marketing Digest Writing Team provides the content you need to keep you well-informed on the latest developments and trends in the digital marketing industry.

Latest posts by Marketing Digest Writing Team (see all)
Comments
comments