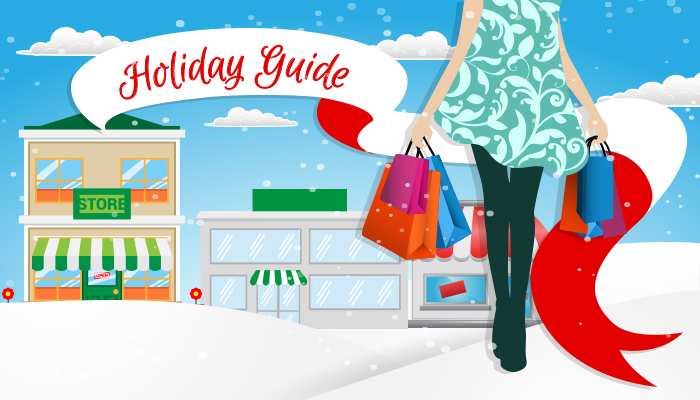 2014 Holiday Guide: Practical Tips that Will Help Retailers Prepare for the Holiday Shopping Surge
The holiday season is upon us. Thousands of customers are waiting in line, ready to buy gifts and other holiday goodies—and you can't wait to serve every single one of them! You have visions of booming sales and increased revenue in your head—especially during the period between Thanksgiving and Christmas Day when customers are window shopping in malls or browsing websites, hoping to get their holiday shopping done just in time. True enough, it's the most wonderful time of the year—not only for excited customers, but for retailers like you as well.
But before you head out and serve these customers, ask yourself: "How ready am I for the holiday shopping surge?"
Fortunately, for those retailers having second-thoughts about their holiday shopping preparation, online publishing network Retail TouchPoints has published an extensive guide to help retailers gear up for the holiday season. This guide contains significant information and statistical data about this year's holiday trends, as well as some practical tips that businesses can apply to their holiday preparations.
According to Retail TouchPoints' Editor-in-Chief Debbie Hauss, retailers recorded 2.7% growth in their overall sales despite some factors that kept many customers at bay during the 2013 holiday season. ShopperTrak founder Bill Martin said that this has been a trend for "four consecutive years, in large part prompted by an increase in shopping via mobile technology."
Meanwhile, Jerry Sheldon, VP of Technology for IHL Services, predicted that Christmas spending this 2014 will grow in the 3.5% range based on the current economy. Wow! That's quite a good figure considering how some issues, like oil price hikes, could cause shoppers to trim down their holiday shopping budgets.
Despite projected price hikes, the holiday season is still synonymous with shopping and gift-giving, so retailers can be positive that their businesses wouldn't suffer as long as they're equipped with knowledge about consumer behavior and effective marketing strategies.
Here are some important takeaways from Retail TouchPoints' 2014 Holiday Guide.
Many holiday customers shop online. In 2013, a huge number of customers shopped online during the holiday season, resulting to a combined $5.3 billion in desktop spending alone. This year, the National Retail Foundation (NRF) predicts that e-Commerce sales will grow by 9% to 12% over 2013's numbers. Really? Holiday shoppers love online shopping, alright. With the advantages associated with online shopping (convenience, accessibility, etc.), there's no doubt this trend will continue to be evident in the coming years.
Brand advocacy plays a key role in your holiday planning. In any brand advocacy campaign, finding good influencers is top priority. Adam Pressman—a Partner in the Retail and Strategic IT Practices of A.T. Kearney—noted that these advocates will continue to be important for potential consumers "as consumers seem to only receive more and more messaging across channels." Recommendations are still very important, Pressman added. Retailers can get consumers involved with their campaigns by executing strategies that encourage engagement and interaction, such as online polls and contests.
Omnichannel retailing is here to stay. Omnichannel has given birth to virtual merchandising, providing customers with a consistent shopping experience through each channel—desktop, smartphones and tablets—while allowing them to have full access to high-resolution product information.

You want to bring in more holiday shoppers for your business, right? With the seamless functionality it brings to customers, we highly encourage retailers like you to incorporate omnichannel technology into your holiday merchandising.
Retailers "wish" for data and payment security this holiday season. The holiday season may provide booming sales to retailers but along with it comes the threat to data and payment security. There are some effective solutions to this issue, however, in the form of point-to-point encryption and implementation of chip-embedded (EMV) payment cards.
RFID technology helps retailers achieve inventory accuracy. By using Radio Frequency Identification (RFID) technology, retailers can reduce the time it takes for them to identify inventory throughout their storage, marketing, and distribution processes. Spending less time in inventory tracking leads to minimized out-of-stocks, more sales, and improved customer satisfaction!
There you have it. Looking at the points emphasized in Retail TouchPoints' guide, we encourage you to arrange everything your business needs this early so that you won't find yourself freaking out when actual "crunch time" arrives. Preparing for the holiday shopping surge is one of the most challenging aspects of retailing, but it's definitely one of the best too!
What do you think of Retail TouchPoints' 2014 Holiday Guide? What other preparations should businesses undertake before the holiday season?
Hit us up with a comment!

The Marketing Digest Writing Team provides the content you need to keep you well-informed on the latest developments and trends in the digital marketing industry.

Latest posts by Marketing Digest Writing Team (see all)
Comments
comments