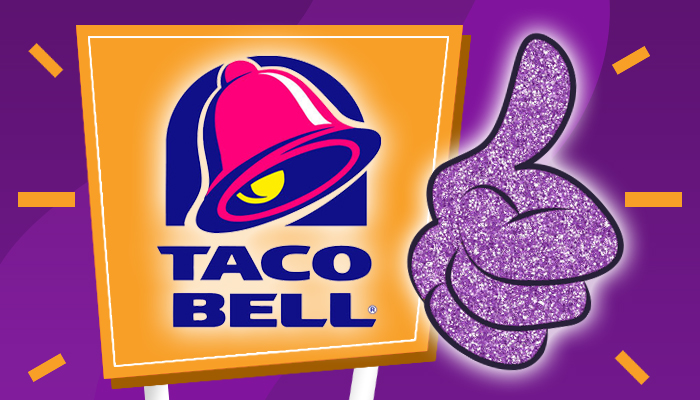 How Taco Bell Created a Loyal Customer Base with its Memorable Viral & Social Marketing Campaigns
You can call them stunts or you can call them strokes of genius. Taco Bell (@tacobell) has become famous for being ahead of the curve when it comes to marketing its products to the general public. In 1996, there was that unforgettable headline in The New York Times and five other major American newspapers stating that "the Bell" had bought the Liberty Bell and would rename it "The Taco Liberty Bell" (it turned out to be a very well-timed April Fools' joke).
When the space station Mir came down to Earth in 2001, Taco Bell towed a massive bull's-eye to the Pacific Ocean, saying that if any piece of the station hit the bull's-eye, every person in the United States would get a free taco.
But that was fourteen years ago. Marketing strategies and channels have evolved considerably, and technology plays an even greater role in our lives. Brands and companies both great and small need to incorporate digital approaches to their marketing strategies if they want to remain competitive. At the same time, brands and companies need to stay true to their principles and maintain their unique identities.
Taco Bell has not only done a great job of keeping up with the times, but has stayed at the forefront of what it means to be successful in the Digital Age—all without sacrificing its unique brand identity.
Bouncing Back from 2011's Meatgate
In 2011, controversy hit Taco Bell when it was accused of selling meat products that were not completely made of meat. While allegations against the fast food industry are hardly new and the lawsuit was eventually dropped, the controversy had an adverse effect on business as Taco Bell experienced a 1.4% decline in sales that year.
In an effort to stop becoming the punch line (to paraphrase CEO Brian Niccol), Taco Bell made a big splash the following year with the launch of the Doritos Locos Tacos. After 10 weeks, over 100 million of the new tacos had been sold. This resulted in an 8% increase in sales in 2012.
It wasn't just the introduction of new products that reinvented Taco Bell. Much has been said about the brand's social media presence, and how it has used social media channels to improve its online visibility and connect with its target market. Whether it's humorous Facebook and Twitter posts or viral marketing campaigns, much of Taco Bell's success comes from knowing where its potential and existing customers are and how to best appeal to their sensibilities—all while subtly telling them that they should hang out more at Taco Bell.
The virility of Taco Bell's recent marketing campaigns can be credited to Tressie Lieberman, the company's Director of Digital and Social Marketing. Lieberman and her very creative team are not afraid of innovation, experimentation, and a lot of silliness if it means successfully promoting Taco Bell to its target market.
Listed below are some of the factors that have contributed to the success of Taco Bell's trailblazing marketing and social media efforts:
Targeting Millennials
While it's undeniable that Taco Bell has a varied target market, its decision to focus its digital and social channels on Millennials was a smart decision. Imagine going to a foreign country for the first time. Even if you haven't set foot on it prior, if you can get by with a few words of the native language, the locals will respond to you in a positive manner.
The brand has mastered the language of Millennials and knows how to communicate with them. A quick look at Taco Bell's Twitter feed and Facebook page reveals numerous non sequiturs with dashes of humor, honesty, and maybe just a little hint of sass. [See Figure 3]
Maintaining a Strong Social Media Presence
With 1.59 million followers on Twitter and over 10 million likes on Facebook, Taco Bell maintains a very active online presence, which in turn has increased its popularity with its target market. Customers have come to expect daily posts on all of Taco Bell's social media channels, be it about new products or simply something endearing or humorous about what makes eating at Taco Bell enjoyable. The team behind these social media accounts is focused on where the consumers are, and have figured out how to use the right social media channel to drive effective promotions.
For instance, to promote a limited offer on their Beefy Crunch Burrito item, Taco Bell used Snapchat to announce the limited offer. This strategy had two layers that fit perfectly: first, there was the limited time offer menu item; second, the limited time offer was advertised on a social media app that is known for showing media in a span of 1-10 seconds before being deleted forever.
Putting a Friendly Face Behind the Corporation
Online marketing success often relies on being honest with consumers, as consumers want to know that they can trust the entity they're communicating with. It is natural for the public to always have doubts about the "big bad corporations" who probably don't care about them and just want their money. This is true whether you're running an established business like Taco Bell or a small crafts shop.
The professionals that man Taco Bell's social media accounts take the time to interact with customers and social media followers. These interactions aren't limited to saying thanks or acting as occasional customer service reps (as some businesses do on social media). Taco Bell keeps an eye on the social media landscape and engages in conversation with anyone talking about them. You could be musing about wanting to eat Taco Bell right this minute even without referencing their Twitter handle, and the company will send you a reply, subtly hinting that yes, you should go out and buy their food.
Brian Niccol, who was then president of Taco Bell, participated in an Ask Me Anything (AMA) thread in 2014 on Reddit to promote the brand's breakfast menu launch. With over 8,000 comments, Mr. Niccol's honest, humorous, and sometimes detailed answers to questions posted to him by users was met with a very positive response by the website, even garnering him a "Best Comment of the Day" award.
Taking Viral Marketing Up a Notch
If the Liberty Bell or the Mir space station incidents weren't evidence enough, Taco Bell has built a reputation for launching memorable viral marketing campaigns. Case in point: in March 2014, Taco Bell launched a much talked about "viral war" with McDonald's (@McDonalds) during the launch of its breakfast menu.
It started when Taco Bell released a commercial online, where "Ronald McDonald" talked about how much he loved the new Waffle Taco that was being offered.
McDonald's social media team responded back in their own friendly way by posting a picture of the actual Ronald McDonald petting a Chihuahua, a nod to the mascot Taco Bell used in the mid-90s. [See Figure 6]
Much like its use of Snapchat, this form of viral marketing also had a two-fold effect: because Taco Bell took the first shot, the brand successfully marketed its new breakfast menu to raise awareness among an already loyal fan base. In turn, any response from McDonald's simply generated more buzz for Taco Bell.
Want to Create a Loyal Customer Base? Maintain a Unique Brand Identity
Taco Bell is certainly not a pioneer when it comes to viral marketing on the Internet, but they are one of the best examples of how a company can use the technique to effectively promote a brand, product, or service. Taco Bell has crafted a unique voice and marketing approach, and has not resorted to changing its brand identity to adapt to current trends. This in turn has created a loyal customer base for the brand.

The Marketing Digest Writing Team provides the content you need to keep you well-informed on the latest developments and trends in the digital marketing industry.

Latest posts by Marketing Digest Writing Team (see all)
Comments
comments