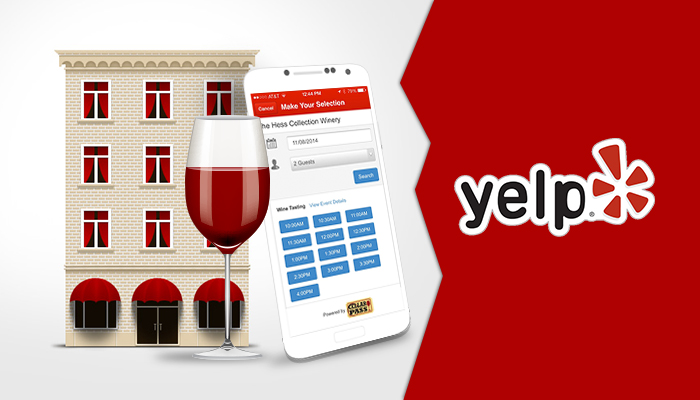 Yelp Adds Hotel & Winery Reservations to Booking Services List
Yelp announced yesterday a new set of reservation services in an effort to give Yelpers more access to different local businesses. Through this upgrade, users will now be able to make reservations at hotels and wineries using the Yelp website and app. [See Figures 1 and 2]
The popular review site launched its food delivery and spa pampering services last year through the integration of delivery.com and Eat24 for food, and Booker for spa reservations. Today, Yelp is bringing in more partners such as EatStreet, ChowNow, and Ordr.in to further improve its food delivery services. The company also introduced Hipmunk as its partner for hotel bookings and CellarPass for winery reservations.
To coincide with the announced partnership, Hipmunk CEO and co-founder Adam Goldstein noted that Hipmunk and Yelp share the same goal—to make things "fast and easy" for users. "Yelp is a like-minded brand in a different industry," Goldstein said in a statement. "They care about making things fast and easy for users, just like we do. We're excited to integrate with Yelp Platform to offer our experience to a new set of users."
CellarPass co-founder Jonathan Elliman, on the other hand, said that his company's partnership with Yelp is a "tremendous enhancement" to CellarPass' service, giving their member destinations "immediate exposure" to the millions of Yelp visitors every year.
According to data collected by Yelp, about 28,000 businesses in all major U.S. markets are included in their booking services platform. Yelp also revealed that in the third quarter of 2014, around 250,000 transactions were made on their site. Looking at the numbers, Yelp is confident that users will find their booking and purchase options useful and convenient.
The company said, "The best part is that by making it easier for consumers to spend money at local businesses, those businesses are reaping the benefits, too."
What are your thoughts on the new addition to Yelp's booking services list? Do you think these new services can turn in more Yelp partners and users in the future? Share your thoughts in the Comments section below.

The Marketing Digest Writing Team provides the content you need to keep you well-informed on the latest developments and trends in the digital marketing industry.

Latest posts by Marketing Digest Writing Team (see all)
Comments
comments