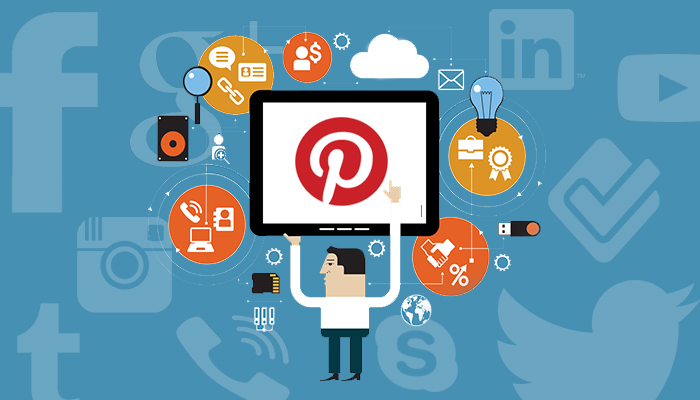 Hey Dummy! Try Using Pinterest as Part of Your Social Media Marketing Strategy!
The latest craze in the world of social media is Pinterest. For those who've just woken up from a decade-long coma, Pinterest is a social networking site that allows users to share visuals (known as "pins") that they find online. Pins can be placed on boards and customized according to specific themes. (Hardly rocket science right?)
Users can pick any theme that appeals to them, though the most popular are fashion, crafts, photography, travel, food, and architecture. Users can interact with other users by commenting on or "liking" pins. They can also "re-pin" pins to their own boards.
If Pinterest sounds like a social media site that would only appeal to cat ladies and photo-blogging geeks, read on for some surprising statistics.
According to the social media agency Semiocast, Pinterest had 70 million users as of July 2013, and the numbers are still growing. While Pinterest is largely dominated by female users—who make up 80% of its user base, according to RJMetrics—Pinterest has a macho side, as male users are also active on the site. According to an infographic from Visual.ly, as of March 2012, 56% of Pinterest users in Great Britain were male.
Online marketers should note that Pinterest isn't just ideal for the creatively-inclined, as it can be harnessed by businesses that want improve their social signals and brand awareness, increase customer loyalty and trust, and boost sales and conversion.
Still not impressed my young Padawan learner? Pinterest now averages monthly page views of about 2.5 million, and about 80% of total pins are re-pins. Pinterest outranks other sites like YouTube, Reddit, Google+, LinkedIn, and Myspace combined when it comes to referral traffic. Moreover, as Pinterest attracts a broad demographic and has widespread appeal, both large businesses and SMBs can use Pinterest to market their products and services and engage users.
As social media users are increasingly sharing information through images and videos as opposed to text-based content, visual content will play an increasingly important role in the social media marketing strategies of your competitors. In other words, if you don't shape up, you'll soon ship out.
Pinterest versus Tumbler
A reoccurring debate that surrounds Pinterest is whether online marketing professionals should be using other image-centric social media sites like Tumblr instead. According to Google Trends, while Tumblr is leading in overall traffic volume globally, Pinterest is steadily catching up.
Generally, Pinterest users appear to be more engaged than Tumblr users, and Pinterest has a lower bounce rate percentage (which means that Pinterest visitors stick around the site longer). To get the best results, online marketers should create and monitor official Pinterest and Tumblr accounts for their clients to target specific audiences.
Pinterest versus Facebook
While Facebook is the undisputed giant of social media, with over a billion active users, online marketing professionals shouldn't be so quick to write off less numerically strong social media sites like Pinterest.
According to a 2012 report from Bizrate Insights, while both Pinterest and Facebook are used by online consumers to connect with like-minded individuals, Pinterest is used more often as a destination for shopping inspiration, tracking, and product discovery. In fact, 69% of online consumers who use Pinterest have found items they've purchased or wanted to purchase on the site compared to only 40% of online consumers who use Facebook.
Leveraging Pinterest for Social Media Marketing Campaigns
Once official Pinterest profiles have been created, online marketers should adopt the following best practices to reinforce their clients' corporate branding, and engage their clients' leads and customers, among other objectives:
Optimize Pinterest profiles for search engines: Pinterest profiles should be optimized with the right keywords, and should be named after the businesses/professionals that are being marketed. Also, the individual boards could be named after the products, services, promotions, and features that the businesses/professionals are trying to promote.
Don't just build traffic—engage with the audience: Online marketers should engage with their clients' target audience by reaching out to them. They can re-pin, like, and comment on different pins, as well as interact with other users. Also, they should tag their images to ensure that they're found by other users. By concentrating on building a community, their clients' Pinterest profiles will achieve the desired results.
Use Pinterest boards to conduct promotional campaigns: To do this, group boards should be created, and users should be invited to contribute to that board. Contests that allow users to create pin boards related to certain themes could stand the chance to win prizes based on the number of likes the pin boards receive. These are just basic suggestions, as the possibilities are endless.
Track Pinterest traffic: Once the Pinterest profile has been set up, traffic should be tracked using analytics and rank tracking tools like Google Analytics. For Google Analytics, the advanced segments should be used to identify which online marketing strategy drives the best traffic, with Pinterest being added to the social media segment. This would enable users to see all their Google Analytics data based on their social networking referrals, including Pinterest.

The Marketing Digest Writing Team provides the content you need to keep you well-informed on the latest developments and trends in the digital marketing industry.

Latest posts by Marketing Digest Writing Team (see all)
Comments
comments