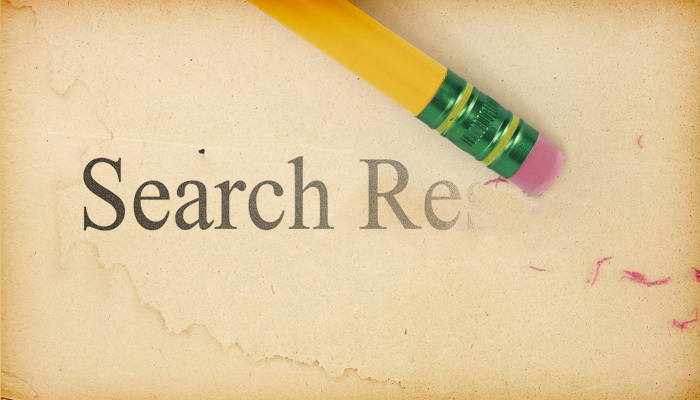 Google Releases New Search Removal Request Form in Compliance with the EU's "Right to be Forgotten" Directive
Following the Court of Justice of the European Union's landmark decision on May 13, 2014, (which ruled that internet search engines could be compelled to remove information about individuals from its search results), Google has taken steps to comply with the new "right to be forgotten" directive.
Google has created a new form that allows individuals residing in the EU to process their removal requests: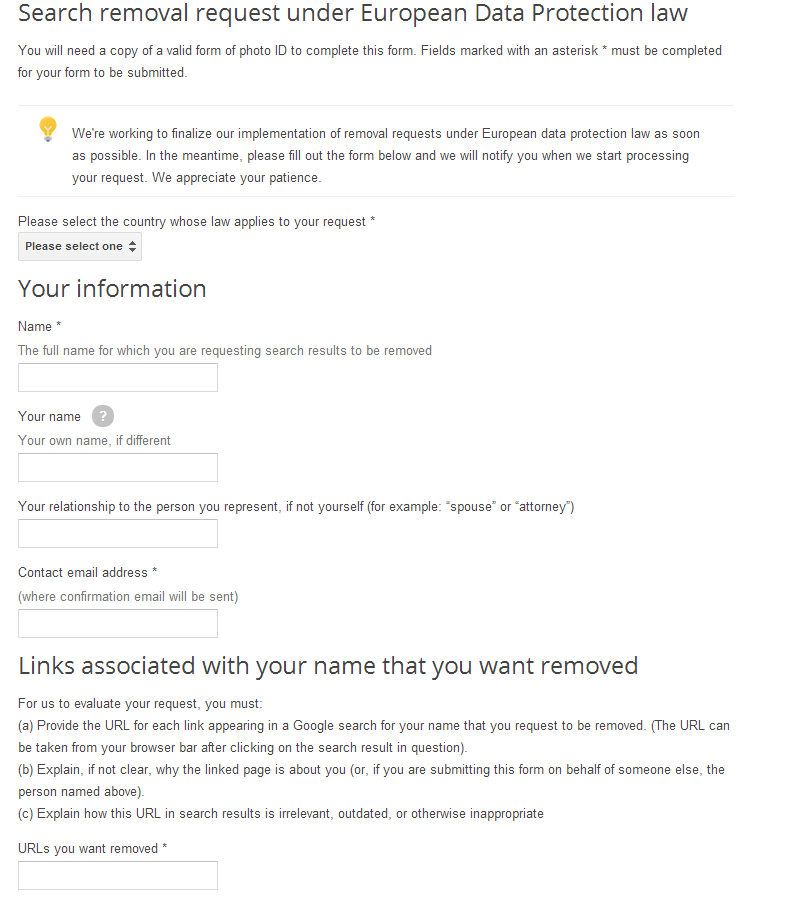 The "Right to be Forgotten" Form
The new search removal request form contains additional information: "A recent ruling by the Court of Justice of the European Union found that certain users can ask search engines to remove results for queries that include their name where those results are inadequate, irrelevant or no longer relevant, or excessive in relation to the purposes for which they were processed."
The form further states that a special team will "assess each individual request and attempt to balance the privacy rights of the individual with the public's right to know and distribute information. When evaluating your request, we will look at whether the results include outdated information about you, as well as whether there's a public interest in the information—for example, information about financial scams, professional malpractice, criminal convictions, or public conduct of government officials."
The search removal request form is an initial effort, and Google is planning to work very closely with EU data protection authorities and others over the coming months to refine the search removal request process.
Search removal requests cannot be processed unless individuals can attach copies of valid photo IDs. Moreover, to prevent fraudulent removal requests from impostors, those who are trying to harm their competitors, or those who are trying to suppress legal information, individuals making the search removal request for themselves, or those whom they are authorized to represent, must attach legible copies of documents that verify their identities or the identities of the people they've been authorized to represent.
Those who are making search removal requests on behalf of others are also required to attach proof that they've been authorized to do so. Documents do not need to be government-issued IDs or passports, and individuals are allowed to obscure parts of the documents, such as numbers, as long as the remaining information verifies the identifies of the individuals in question.
Google will use these identity verification copies to assist them in authenticating the search removal requests they receive, and will delete the copy within a month of processing the removal request, except as required by law.
The search removal request form asks individuals to select one of the 28 EU countries, and also provides support for four non-EU countries: Iceland, Liechtenstein, Norway, and Switzerland.
What Happens after a Removal Request is Submitted
Submitted search removal requests will go into a holding queue. Google also sends out an automated, standardized response:
Hi,
Thanks for reaching out to us!
We have received your legal request. We are currently building our system for removing links from our search results according to EU data protection law. In the meantime, your message is in our queue. Once we have our system up and running, we'll process your request as quickly as our workload permits.
Regards, The Google Team
Google has already received thousands of removal requests, and a considerable number were made before the Google "Right to be Forgotten" form was rolled out. Those that did not meet the formalized criteria in the form are unlikely to be approved, though individuals can make new requests using the new search removal request form.
Successful Removals Still Leave Digital Footprints
The Court of Justice of the European Union's directive only applies to the 28 EU countries, plus the four non-EU states already mentioned. This, of course, means that successful removals of URLs will not impact Google SERPs worldwide. Successful removals will be implemented across EU-specific versions of Google, but the suppressed URLs will still appear on non-EU versions of Google.
Removal requests are essentially ineffectual because a person who types the same name query on non-EU versions of Google, such as Google.com, will still be able to see the removed URLs. Standard Google procedure also means that Google will disclose when URLs are removed and may provide links to ChillingEffects.org.
Those visiting ChillingEffects.org might be given a vague explanation as to why the URL was removed. In other words, the "right to be forgotten" directive does not completely erase shameful digital records, as it still leaves footprints. Plus, there are easy loopholes that give persistent seekers access to the information that was deliberately withheld from them.

The Marketing Digest Writing Team provides the content you need to keep you well-informed on the latest developments and trends in the digital marketing industry.

Latest posts by Marketing Digest Writing Team (see all)
Comments
comments