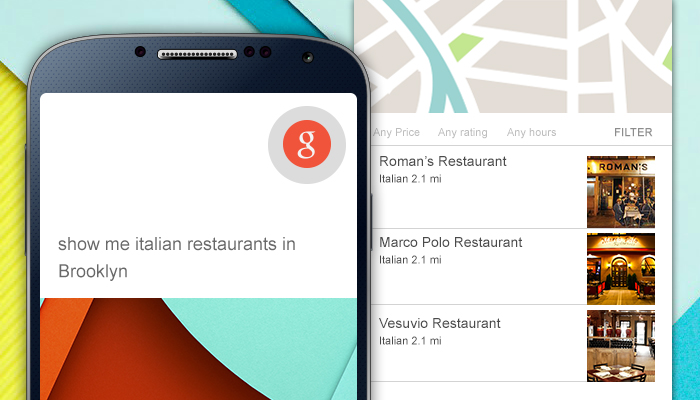 Prepare for an Extra Sweet Treat as Google Redesigns Its Search App for Lollipop Devices
Android Lollipop users, have you noticed any changes on your Google app yet? It's no secret that Google's main business remains its popular search engine, with the company releasing updates every now and then to continuously improve it. Well, recently, Google set the bar even higher by rolling out a Material Redesign for its mobile search app, coinciding with the introduction of the latest Android release, Lollipop.
The upgraded search app for Android devices now includes a sweet, lollipop-flavored design, complete with "bold colors, fluid animations and simplified layouts." While the visual design is much appreciated, the search app has also been enhanced with a bunch of new features.
One of the new novelty features include a voice command which works with Nexus 6, Nexus 9, and Galaxy Note 4 devices. Now, users can speak and have the search app comb through its archive. They can simply say "Ok Google" to ask a question—even if their screen is off or if their phone is unplugged. [See Figure 1]
The Google app also proves to be much smarter, as it now includes a new card that will constantly follow-up on important events or things that you may have forgotten. This is extra useful, particularly for people running multiple errands during hectic hours. [See Figure 2]
From the Google blog:
As you scramble to get through the end of the year, the app will also help you keep track of your trips (whether you're seeing the family on Thanksgiving or jetting to Vegas for New Year's eve), to-do lists (did you pay your utility bill? pick up the wine for your Christmas party?) and more (the Bulls score, where you parked your car) with Now cards.
Another bonus from this update is that it can help users find the information they need from other apps installed on their phones. Users will be able to use the "Ok Google" prompt to search within apps such as YouTube, TuneIn, Tumblr, and TripAdvisor. [See Figure 3]
Finally, the company introduced Google virtual coin, which helps users make decisions by just saying "Ok Google, flip a coin." Interesting, right?
While these new designs and features concern only Android users (for now), a similar release might soon be available on iOS as well.
What can you say about the newly-rolled out material design for Google's search app? What new feature is your favorite so far?
Hit us up with a comment!

The Marketing Digest Writing Team provides the content you need to keep you well-informed on the latest developments and trends in the digital marketing industry.

Latest posts by Marketing Digest Writing Team (see all)
Comments
comments