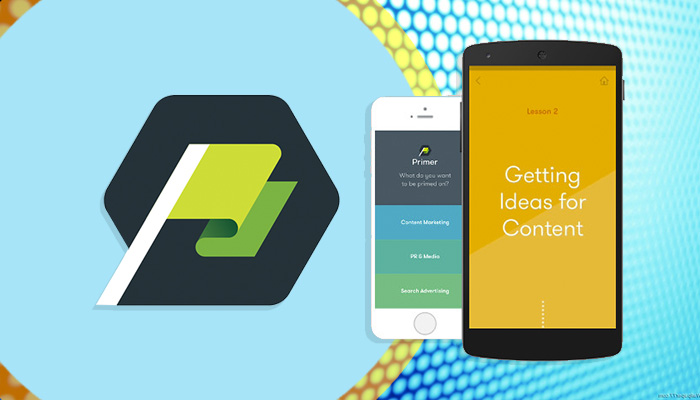 Introducing Primer, a Marketing Lessons App Powered by Google
Google has just launched a new app aimed at assisting startups and new marketers understand the fundamentals of marketing. Called Primer, it is designed to be "a no-nonsense, jargon-free app" that removes many of the complications associated with marketing, thus lowering the barriers that prevent rookies from venturing into uncharted territory.
Though still in its experimental stage, Primer wishes to provide "a simple, easy to use, mobile solution for small business owners looking for practical marketing advice."
Powered by "industry experts in each subject area," Primer provides bite-sized marketing lessons, case studies, interactive quizzes, and insider tips that simplify marketing concepts, as seen in Figure 1 above.
"We realize that some of the Google ad-tech products which connect businesses to customers also widen the gap between rookies and marketing pros," the website states. "We want to fix this." Primer's valuable lessons are designed to be consumed in small doses, and are best reviewed during off periods and down time. It also comes with an offline feature, so that marketers can continue their learning in areas that "are signal-free," affirms Google.
As more and more entrepreneurs take their businesses online, Primer could not have come at a better time. A guide that helps less experienced entrepreneurs navigate through the waters of online marketing will certainly be essential.  With the occasional story of how a young marketer struck it rich with their investment, rookies and startups are given concrete examples that will inspire and shape their own marketing strategies.
As of press time, Content Marketing, PR and Media, and Search Advertising are the first three topics to be covered by Primer, with more to be added soon. The app is now available on iOS with Android expected to follow suit.
Do you foresee Primer being useful for startups and rookie marketers? Let us know what you think in the Comments section below.

The Marketing Digest Writing Team provides the content you need to keep you well-informed on the latest developments and trends in the digital marketing industry.

Latest posts by Marketing Digest Writing Team (see all)
Comments
comments