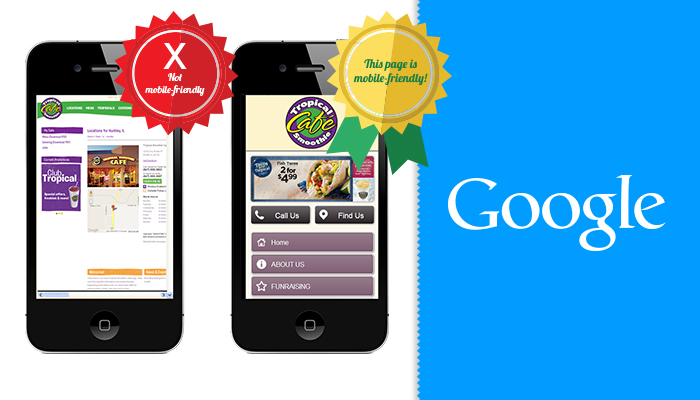 Google to Label "Mobile-Friendly" Pages in Search Results
Google has announced some changes that are highly significant for searches conducted on mobile devices. Moving forward, websites that display properly on smartphones and tablets will carry a "mobile-friendly" label in mobile search results. [See Figure 1]
Google notes that clicking on search results that have not been optimized for mobile devices can be frustrating for users, and stated that this label would "make it easier for people to find the information that they're looking for."
To qualify for the mobile-friendly label, web pages need to meet the following criteria (as detected by Googlebot):
[Web page] avoids software that is not common on mobile devices, like Flash
Uses text that is readable without zooming
Sizes content to the screen so users don't have to scroll horizontally or zoom
Places links far enough apart so that the correct one can be easily tapped
In line with this change, Google has also developed a Mobile-Friendly Test page that will detect if a website adheres to the above criteria and is mobile compatible.
As Figure 2 above demonstrates, YouTube is mobile compatible as it complies with Googlebot's criteria. The Mobile-Friendly Test page also shows users how Googlebot sees the page. On the other hand, should a page be deemed incompatible, the Mobile-Friendly Test page will highlight the issues that were detected by Googlebot, and will offer solutions to help site owners fix them. [See Figure 3]
Google encourages webmasters to look at the Webmasters Mobile Guide to learn how to create and optimize mobile sites, as well as the Mobile usability report found in Webmaster Tools. The Mobile usability report highlights the major mobile usability issues found on entire websites rather than just one page. Google is also offering how-to-guides for third party software to migrate websites hosted on CMS to more mobile-oriented templates.
Overall, these changes indicate Google's "mobile first" approach to search. Another major announcement is that Google is experimenting with its mobile-friendly criteria as a ranking signal. As Google already penalizes sites that give users bad browsing experiences, giving sites that offer good experiences a ranking boost is a logical step.
Users can expect these changes to roll out in the coming weeks globally.
Has your website been deemed mobile-friendly? How might using mobile-friendly criteria as a ranking signal impact search results? Let us know in the Comments below.

The Marketing Digest Writing Team provides the content you need to keep you well-informed on the latest developments and trends in the digital marketing industry.

Latest posts by Marketing Digest Writing Team (see all)
Comments
comments