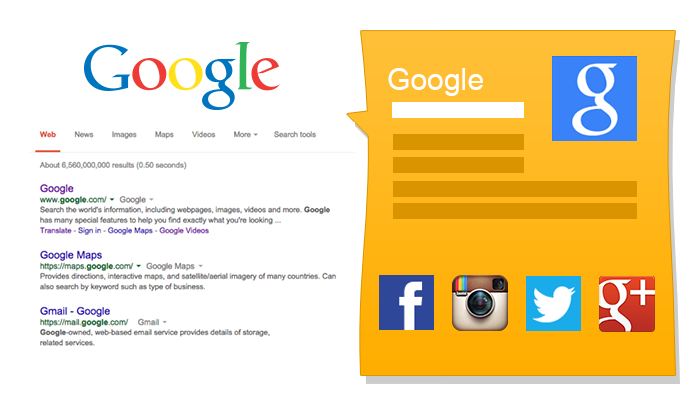 Social Profiles of Brands Can Now Be Seen In Google Knowledge Graph Results
Google Search never fails to make information easier to access on its system. Today, when you type a brand name on the search bar, Knowledge Graph will return instant results with links to the brand's social profiles.
In November of last year, links to social profiles were first spotted for results about celebrities and other famous personalities. Journalist Bernd Rubel reported this on his Google+ page, saying:
I'm not even sure if this is new, but I've never seen this before: if applicable, the Knowledge Graph lists all available Social Icons. For +Kim Kardashian these are Twitter, Facebook, Google+ and MySpace. I can reproduce this for a few celebrities, both on Desktop and on Mobile.
Google has recently extended this feature to brands and businesses. Zineb Ait Bahajji, Webmaster Trends Analyst at Google, made the announcement on January 16, 2015, stressing that brands can now allow their social profile information to be displayed on their Knowledge Graph entry by using structured data markup on their site. [See Figure 1]
Previously, corporate brands could only add links to their Google+ page but now, companies can also include their social profiles for Facebook, Twitter, Instagram, YouTube, LinkedIn, and MySpace.
To let Google know which social media accounts to link to, the company depends on the structured data markup on the brands' official website. Simply put, the code included in the sites of brands need to show what their social media accounts are. Apart from the social media networks mentioned above, brands can also include profiles on other networks such as Pinterest, Vine, and Snapchat.
Google algorithms process the social profiles specified and then display the most relevant ones in response to users' queries. Google says that "The social profiles in your markup must correspond to the ones that users can see on the same page."
Visit the official Google Help page to learn more about implementing the structured markup.
Can brands create a stronger social presence with Google displaying their social profiles on search results?

The Marketing Digest Writing Team provides the content you need to keep you well-informed on the latest developments and trends in the digital marketing industry.

Latest posts by Marketing Digest Writing Team (see all)
Comments
comments