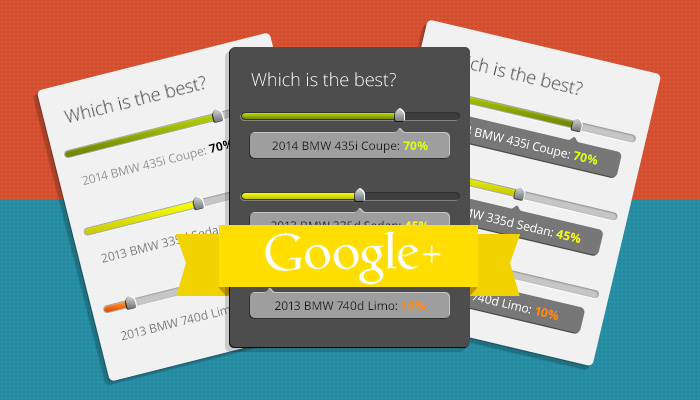 Want to Conduct Surveys? Polls to Launch on Google+ Today
As reported on Google+ and originally shared by Dennis Troper, polls have been introduced as a brand new function on Google+. "Michael Jordan or LeBron James? Best pizza in New York City? The definitive James Bond? These are just some of the questions that can only be answered by asking those around us. Starting today, you can use polls on Google+ to settle the burning issues of our generation…or at least find out what your friends are thinking." The new feature can be found among the tabs displayed when creating a post [See Figure 1]. A user can create polls containing up to five choices. Also, static or animated photos can be included in each option to make it look more appealing.
Many Google+ Pages have already begun to try the new polling feature using photos. Pages for The Hunger Games movie, Mashable, Neila Rey, and L'Oréal Paris India already have some polls posted on their pages. [See Figures 2, 3, 4, and 5] Moreover, a poll by The Next Web includes animated GIFs, which already has a poll winner. [See Figure 6]
"Polls will become available over the next few days on Android and the web, and are coming soon to iOS," stated the Google+ post.
While groundbreaking in its own way, the concept of online polling is hardly new, as Facebook has experimented with a similar feature called "Facebook Questions," which originally launched in July 2010. It worked until Facebook removed Questions, which allowed users to share polls on their news feed, in 2012.
Facebook also removed the option from its Pages last year to "eliminate redundancies." Instead, users can simply post their responses in the comments section. However, the "Ask Question" polling feature is still available on Facebook Groups and some major media partners. On the flipside, Pages owned by small businesses aren't able to enjoy the advantages brought about by the polling feature.
With Google+ bringing back polls, many users said they were satisfied with the new feature. Despite a few shortcomings, Google is still "excited to see how polls will spark conversations" and is welcoming feedback to make further improvements for "people, pages and communities on Google+."
What do you think of the new polling feature? Will it benefit users and advertisers? Hit us up with a comment!

The Marketing Digest Writing Team provides the content you need to keep you well-informed on the latest developments and trends in the digital marketing industry.

Latest posts by Marketing Digest Writing Team (see all)
Comments
comments