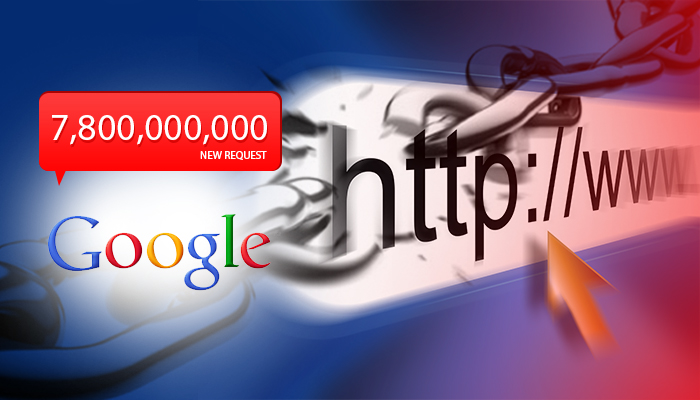 A new record has been set for the number of URLs that Google has been asked to take down from search results over alleged copyright infringement. The number has skyrocketed since Google began making information on takedowns public. Compared to the few dozen removal notices per year that the company received a few years ago, millions of allegedly infringing links are now being processed by Google every week.
In the last week alone, as shown in their Transparency Report, Google received a whopping 7.8 million removal requests; up 10 percent from the figures that appeared in the previous week. [See Figure 1]
According to the data reported by TorrentFreak, Google is now processing an average of one million removal requests per day, following an increase in the number of copyright holders and organizations reporting "more and more allegedly infringing search results in an effort to deter piracy."
TorrentFreak reports, "To put these numbers in perspective, Google is currently asked to remove an infringing search result every 8 milliseconds, compared to one request per six days back in 2008."
The link removal requests are sent to Google under the Digital Millennium Copyright Act (DMCA), a US law that helps copyright owners protect their materials—be it blog content, videos, or pictures—from being plagiarized or stolen.
In September of last year, Google released a white paper entitled "How Google Fights Piracy" to demonstrate to the public and policy makers how the company addresses issues on copyright infringement. "When it comes to Search, Google is a leader in addressing the concerns of copyright owners, responding to more copyright removal notices, and faster, than ever before," Fred von Lohmann, Google's Legal Director for Copyright, wrote in a blog post announcing the release of the white paper.
He added, "Hundreds of Google employees work on the problem of piracy online, and we will continue to work with copyright owners to focus our energies on combating the problem."
While Google has initiated various anti-piracy measures, some industry groups have argued that it must do more to protect copyright owners. Recording Industry Association of America (RIAA) executive vice president Brad Buckles even suggested the banning of entire domains from search results to further improve Google's level of transparency.
"Every day produces more results and there is no end in sight," Buckles said in the TorrentFreak report. "We are using a bucket to deal with an ocean of illegal downloading."
What are your thoughts on Google's anti-piracy measures? Are they enough to combat sites that plagiarize copyright holders' content and materials? Let us know your opinion by commenting below.

The Marketing Digest Writing Team provides the content you need to keep you well-informed on the latest developments and trends in the digital marketing industry.

Latest posts by Marketing Digest Writing Team (see all)
Comments
comments