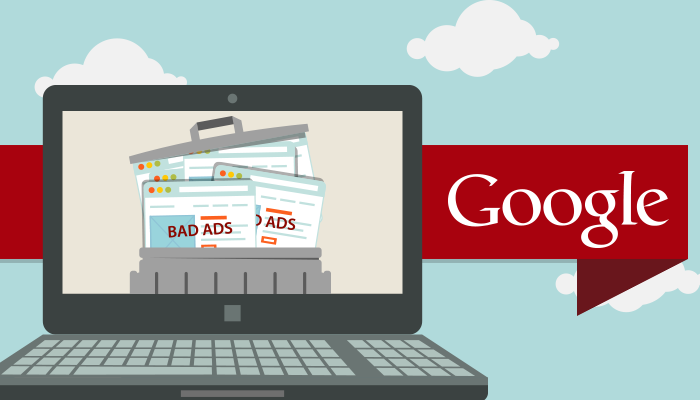 Google Says Fight against Bad Ads Continues; Banned More than 524 Million Bad Ads in 2014
In its annual Bad Ads report, Google revealed they were able to ban more than 524 million bad ads last year, and in the process, banned over 214,000 advertisers from serving these ads across their network.
On February 3, 2015, the search engine and online advertising giant published the details illustrating the practices it took last year to combat counterfeiters. The widespread banning of different online entities that violate the company's policies further establishes Google's strengthened intolerance for fraudulent online ad activities. [See Figure 1]
Overall, the company banned 7,000 advertisers for promoting counterfeit goods—a huge reduction from over 14,000 in 2013 and 82,000 in 2012. According to Google, this number demonstrates that counterfeiters are "increasingly unable to circumvent [their] advanced enforcement systems." Furthermore, the company removed a total of 250,000 sites from Google's network for masking malware links.
Weight loss scams were also prevalent throughout 2014 according to Google, with lots of advertisers using "outrageous claims" to entice customers into purchasing dietary supplements they were selling. As a result, more than 2.5 million ads related to weight loss and dietary supplements were collectively removed last year.
As shown in Figure 2 above, Google has employed additional preventive measures against bad ads and advertisers. Almost 5 million ads were rejected for violating AdWords' copyright agreement; more than 43 million were shut down for using trick-to-click approaches; and over 5,000 advertisers were banned for attempting to practice phishing for their campaigns.
Aside from combatting bad ads, the company also disabled over 160,000 publisher sites in its network, and disapproved almost 2 million applications to join the network in an effort to keep the overall advertising community healthy and flourishing.
"This is a constantly evolving fight," Vikaram Gupta, Director of Ads Engineering at Google, said. "Bad actors continually create more sophisticated systems and scams, so we too are continually evolving our practices, technology, and methodology in fighting these bad ads."
Over the last summer, Google also flagged a set of suspicious accounts for vacation rental ads with help coming from the company's analysis technology. The ads looked authentic enough to the naked eye, the company said, but the vacation rentals turned out later on to be a scam; the rental properties did not really exist.

The Marketing Digest Writing Team provides the content you need to keep you well-informed on the latest developments and trends in the digital marketing industry.

Latest posts by Marketing Digest Writing Team (see all)
Comments
comments