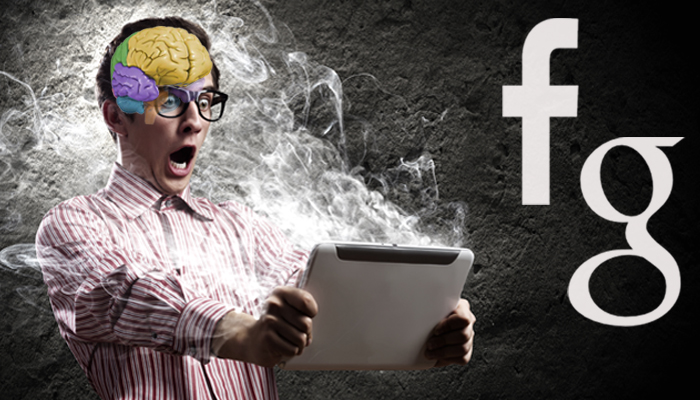 The Big Brothers are Watching: Why Google and Facebook Want Your Data and Your Brain
Yes, we all know that Big Brother is always watching. We live in a society where everyone is under constant surveillance. Indeed, the recent revelations by Edward Snowden about the NSA's global surveillance programs have only reinforced our paranoia.
Sadly, if you're seeking privacy and want to get away from all those CCTV cameras, your home will probably offer very little refuge. That's because our mobile and online activities are being monitored not just by the NSA, but by another set of Big Brothers as well. These Big Brothers don't share the NSA's concerns about national security or the threat of terrorism, but just like the NSA, they're obsessed with collecting data about you and me.
Welcome to the shadowy world of online tracking, and Google and Facebook's secret bid for world domination.
Google and Facebook are after You!
Feeling lonesome and ignored? Friends don't call you anymore, and no one wants to hang out with you on a Friday night? Don't feel bad because Google and Facebook haven't forgotten about you. In fact they're monitoring you constantly seven days a week—which should make you feel very special.
Why are Google and Facebook so fascinated about you, and what did you do to deserve all this attention? Well, first of all, your personal data is worth billions of dollars to these companies, as the gathered information is used by their advertisers to serve you targeted ads, among other things.
Google does its stalking by using a simple technology known as cookies to record your internet browsing activities. This data is then made available to advertisers who want to target consumers. Cookies deliver data anonymously and in bulk, so if you're doing anything icky on the Internet, relax, because your shameful secrets won't be exposed by cookies.
However, it was reported in late 2013 that Google is planning to phase out cookies and replace them with a new tracking device called AdID (short for Advertising ID). Google has reassured analysts that AdID will be an anonymous identifier used for advertising purposes. Like cookies, AdID will help advertisers track peoples' internet browsing activities so that netizens will continue to see those annoying targeted ads every time they open a new tab on Chrome.
Why is Google doing this? No one knows for sure, though many conspiracy theorists think that Google wants to replace third party cookies with its own proprietary identifier, which would give the company a virtual monopoly over ad data. Google already dominates search, online advertising, and keeps online marketers and webmasters constantly tiptoeing on egg shells with their enigmatic guidelines and algorithm changes named after cute animals.
Yes, Google is a monster that we've been mindlessly feeding, and the company is so drunk on power that their plans for world domination are extending beyond cyberspace. Is the next frontier for Google going to be intercepting our thoughts and controlling our minds? Does Larry Page want to insert microchips into our brains? Mind you, they're inching closer and closer to our brains! The proof? Well, they have already released a wearable computer called Google Glass that can go with your regular eyeglasses.
Isn't it getting clearer and clearer? Yes, it is. Also, the Google Glass camera is always ON. They have started tracking people picking their noses in front of the mirror while wearing Glass, measuring entry-to-exit success ratios as well as booger bounce rates. Eventually, the mind control app hidden in Google Glass will someday take over you and me and will make us submit to their bidding. Don't say I didn't warn you.
Google has a strong contender in the race for world domination—it turns out that Mark Zuckerberg and everyone's favorite social network (which is Facebook) are also interested in watching our every move and gathering data. Like Google, Facebook's ultimate plan is to insert microchips inside our brains and turn us into senseless and mindless drones at their command.
Don't believe me? Facebook has publicly admitted to tracking the online activities of both users and non-users. Facebook has also been in hot water with the US Federal Trade Commission over allegations that the company is violating the privacy of its millions of users.
How does Facebook track netizens? According to a chilling article that appeared on USA TODAY, Facebook uses tracking cookies to stalk both users and those who've visited the Facebook page. When users create new accounts, Facebook inserts browser identifier cookies and session cookies into their web browsers.
When users are signed-in, their session cookies will track and log user profile data (such as email addresses and lists of friends), as well as unique data (such as IP addresses and operating systems). Session cookies will also create time stamps for different URLs that were visited that use Facebook plug-ins.
Browser identifier cookies are activated when users surf the Internet but aren't logged-in, or when non-members visit the Facebook page for the first time. Aside from tracking unique data, browser identifier cookies also create time stamps for different URLs that were visited that use Facebook plug-ins.
Like Google, Facebook executives claim that cookies are used to gather data and help their advertisers deliver more targeted ads to netizens. This technology keep Google and Facebook profitable, and ensures that their services remain "free".
But what is Facebook doing with all the data that we feed it every day? Private messages on the platform are scanned continuously, and so is everything that is uploaded onto the timelines and news feeds. Facebook has just bought Oculus, a leader in virtual reality. Does Mark Zuckerberg want to build a simulation that would rival the Matrix? Does Facebook want to plug us all inside this simulation and transform us into drones? You haven't been noticing this, but every "Like" you make on Facebook brings you closer and closer to their control.
Don't believe me? I've given you the red pill, but you can choose to take the blue pill.
Web tracking isn't inherently evil, right? Evil marketers… oops, enterprising marketers like us love it after all.
Of course, some have accused conspiracy theorists of being delusional and insane. After all, being tracked online by cookies and other tracking software for targeted advertising is heaven-sent for those who love compulsive shopping. Why visit the mall when you can stay in the comfort of your own home with your computer, or just stay wherever you are with your mobile phone and click on online ads on Google and Facebook. Many online ads offer savings through discounts, buy 1 get 1 offers, and other promotions that compel many people to buy things on sale even if they don't need them!
Online marketers will continue to depend on the invaluable data that Google and Facebook provide, and we'll continue to give them our advertising dollars so that we can market our products and services more effectively. However, there is a price to pay for our ever-growing reliance on these monsters, they will turn us into slaves in their quest for world domination.

The Marketing Digest Writing Team provides the content you need to keep you well-informed on the latest developments and trends in the digital marketing industry.

Latest posts by Marketing Digest Writing Team (see all)
Comments
comments