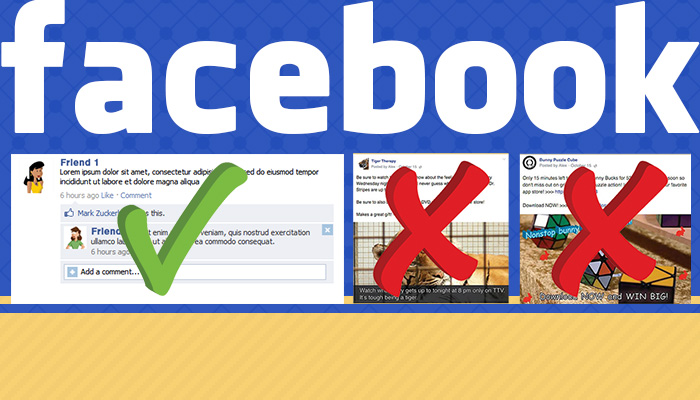 Facebook's News Feed to Lessen the Organic Reach of Promotional Posts from Pages
Facebook announced a change to its News Feed a few days ago, stating that it will be focusing on improving the organic reach of content from friends and pages users care about, while lessening the organic reach of promotional posts from Facebook pages.
"As part of an ongoing survey, we asked hundreds of thousands of people how they feel about the content in their News Feeds. People told us they wanted to see more stories from friends and Pages they care about, and less promotional content," stated the announcement on the Facebook for Business page.
The announcement makes a distinction between promotional content from business pages and actual paid ads. "News Feed has controls for the number of ads a person sees and for the quality of those ads (based on engagement, hiding ads, etc.), but those same controls haven't been as closely monitored for promotional Page posts. Now we're bringing new volume and content controls for promotional posts, so people see more of what they want from Pages."
The announcement also highlighted some of the characteristics that make organic posts "too promotional". Posts that push users to buy products or install apps; enter promotions and sweepstakes with "no context"; and reuse the same content from ad copies are all targeted by the new algorithm tweak.
Figure 1 is an example of one such post.
On the other hand, Pages are far from redundant, and the announcement affirms that they're still a vital part of businesses' marketing strategies. The announcement also links to Facebook's Page publishing tips and best practices, which provides tips that will help businesses increase their sales and connect with users.
This change will certainly ruffle a few feathers, but should come as no surprise. During the recent Facebook Q&A, CEO Mark Zuckerberg stated that his company is always primarily going to be optimized for users, not for businesses or marketers. Brian Boland, a Facebook vice president who oversees the marketing of ad products, told The New York Times that the changes were primarily motivated by the desire to make Facebook users happier, "which helps everyone, including advertisers."
This latest tweak appears to be Facebook's way of telling businesses to purchase ads on Facebook if they want to reach customers. Speaking also to The New York Times, Rebecca Lieb—a digital advertising and media analyst from Altimeter Group—says that it's an unequivocal message to brands: "If you want to sound like an advertiser, buy an ad."
The changes to News Feed are expected to take effect in January 2015.
What impact might this change have on businesses that are trying to market their products and services on Facebook? Let us know your opinions!


The Marketing Digest Writing Team provides the content you need to keep you well-informed on the latest developments and trends in the digital marketing industry.

Latest posts by Marketing Digest Writing Team (see all)
Comments
comments