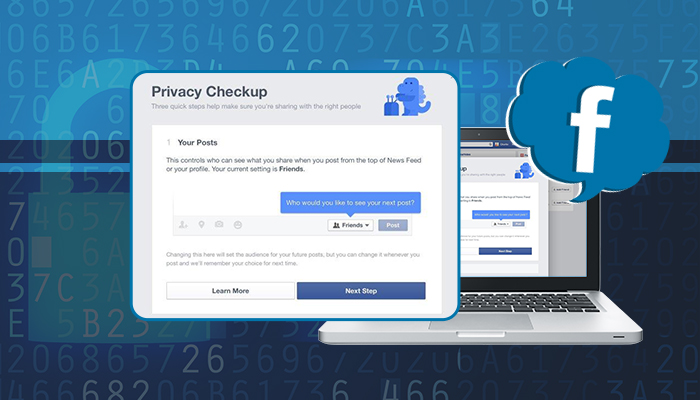 Facebook Introduces Privacy Checkup & More Secure Privacy Settings
Many Facebook users have expressed concern over the social network's privacy settings. In the past, Facebook's default setting was Public, which meant that anyone could browse the posts, photos, and other media users would share unless they changed their privacy settings.
This changed on May 22, 2014, when Facebook announced that it would be making its default settings much more secure. The social network also introduced a new Privacy Checkup function "for people already on Facebook". The new privacy changes are set to affect both existing and new Facebook users, with emphasis on filtering who gets to see the content posted.
In the announcement, Facebook recognized that some users were much more comfortable sharing information with smaller groups and that accidental posts to a larger audience were "much worse" for them.
As seen in Figure 1 above, for new users, the default audience for their first post will be set to Friends. "First time posters will also see a reminder to choose an audience for their first post," and if they don't make a selection, it automatically defaults to Friends. Of course, users can change their privacy settings at any time and also modify the privacy settings of their past posts.
Meanwhile, existing users will now have the new and expanded Privacy Checkup function which "will take people through a few steps to review things like who they're posting to, which apps they use, and the privacy of key pieces of information on their profile."
As seen in Figure 2 above, the Privacy Checkup function wants to "make sure you're sharing with the right people," and users can get an idea of the different audiences that see their content using this tool. While the function was announced in May 2014, according to Re/code, it was initially only tested with a small subset of Facebook users, but was given a wider release in September 2014.
In April 2014, Facebook introduced the Anonymous Login feature to users who wanted to try apps without having to disclose their personal information from Facebook. Similar to what Facebook said for Anonymous Login, the new Privacy Checkup function is aimed to "put power and control in people's hands" when it comes to sharing sensitive information.
More information on privacy settings and audience options can be found here.
Do you think Facebook's updated privacy settings have done a great job of protecting users' data since its introduction last May? How is it working for you today? Any insights?

The Marketing Digest Writing Team provides the content you need to keep you well-informed on the latest developments and trends in the digital marketing industry.

Latest posts by Marketing Digest Writing Team (see all)
Comments
comments