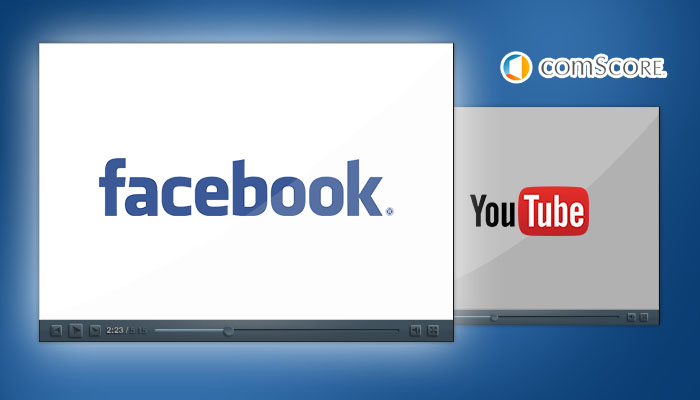 Facebook Surpassed YouTube in Total Number of Desktop Video Views in August, says comScore
According to comScore, online video reaches an astonishing 85 million daily viewers, and many content marketers agree that video performs better than other types of content when it comes to driving conversions. With the introduction of auto-playing videos, Facebook has surpassed YouTube in desktop video views.
On October 13, 2014, in an interview with Beet.TV, comScore's co-founder and chairman emeritus Gian Fulgoni said that Facebook beat YouTube in total number of desktop video views in the U.S. for the month of August.
Facebook delivered "about a billion more views than YouTube [on desktop viewing]," Fulgoni told Beet.TV, adding that the figures for that month were "pretty amazing." [See Figure 1]
Fulgoni points out that Facebook's advantage has been its auto-play feature, which allows videos to be played automatically—without sound—when browsed through in the news feed. Watching a portion of these clips counts as a view.
Fulgoni, however, expressed his uncertainty whether these videos get good engagement compared to those in YouTube. "You're getting good engagement from user-initiated (video on YouTube) by definition," he says. "If you figure out how to create a video so it grabs people's attention, you may have the benefits of high reach as well as engagement."
Even though comScore reported that Google's YouTube still beats Facebook for video views when all devices are taken into account, Beet.TV noted that Zuckerberg's company "has come a long way in the last year." On September 7, 2014, Facebook announced that it now reaches a billion video views daily, which is most likely the result of a newsfeed algorithm change it initiated in June. The views also increased 50% from May through July of this year, according to the announcement.
Facebook's algorithm change allows users to access videos more easily, and shows more videos to those who actually watch them without having to click the play button. In September, Re/code reported that because of auto-play's success, Facebook "will be offering more advertisers the ability to have clips like these autoplay."
Sean Mills, President of mobile/social news platform NowThisNews, told Beet.TV that his company has benefited from the update. "Our growth in monthly Facebook video views has increased by 30X since July, and we're seeing tens of millions of views on Facebook each month," he said.
Do you count Facebook's auto-play without sound as a view? Share your thoughts in the Comments section below.

The Marketing Digest Writing Team provides the content you need to keep you well-informed on the latest developments and trends in the digital marketing industry.

Latest posts by Marketing Digest Writing Team (see all)
Comments
comments