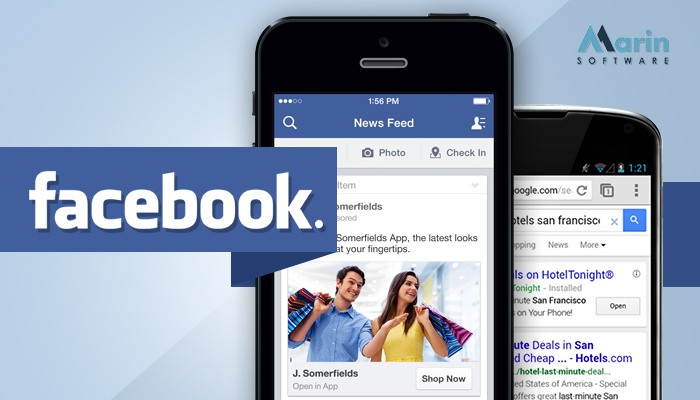 Marin Software's Q3 2014 Benchmark Report Reveals Facebook's Dominance in Mobile Ad Conversions
Facebook topped Google Ads, as it generated higher mobile ad conversions in the third quarter of 2014, with one out of every three ad conversions on Facebook taking place on a mobile device, according to the newly-released report by Marin Software. Facebook accounted for 52% of overall ad impressions and 63% of ad clicks, resulting in a 16% quarter-over-quarter increase in mobile ad conversions.
Mobile ad conversions on Google Ads increased only 2.4% quarter-over-quarter, or close to 11% year-over-year, with 30% of ad conversions taking place on mobile devices. It produced 31% of search impressions and 38% of search ad clicks in Q3.
Additionally, Marin Software's Benchmark Report revealed figures that strengthened the potential of mobile devices in terms of advertising. Mobile search ad spend hit 34.5%, while conversions had the lowest rate with 17.4%, as shown in Figure 1 above. Despite the dominance of desktop in search ad share, mobile device share went through significant increases against desktop's year-over-year share drops. [See Figure 2]
Mobile devices also showed positive figures in display ad share. Desktop still dominated over smartphones and tablets; however, mobile devices gained a higher display ad spend with 40.1% [See Figure 3]. Mobile ad conversion is still low at 22.7% but as seen in Figure 4, mobile devices underwent significant increases year-over-year.
Mobile devices dominated social ad share with 52.3% of ad impressions, 63% of ad clicks, and 60.9% of ad spend. Conversions still had the lowest rate even in social ad share, with only 35.2% versus desktop's 64.8% rate.
The report showed the weakness of mobile devices in terms of conversions. This is "partly due to mobile behavior, such as using a smartphone for research or an in-store visit, and also partly due to the relative ease of converting on a desktop versus mobile devices."
Nevertheless, Marin Software's insights on these figures remained positive. The cross-channel performance advertising cloud "expects consumers to continue to increase their engagement with brands via mobile ads and complete more purchases on their mobile devices. Advertisers are taking advantage of this trend and augmenting their investment in mobile ads for search, social and display channels."
Marin Software's full report can be downloaded here.
Which platform do you think is better for converting ads? What do you think is the reason why mobile ad conversions stay low despite high impressions, clicks, and spend?

The Marketing Digest Writing Team provides the content you need to keep you well-informed on the latest developments and trends in the digital marketing industry.

Latest posts by Marketing Digest Writing Team (see all)
Comments
comments