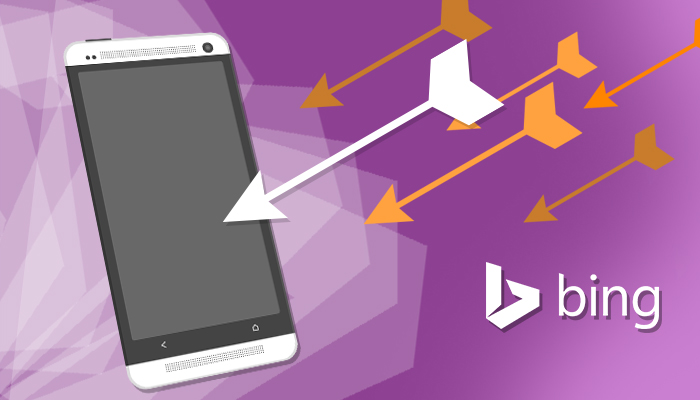 Bing Ads Announces Retirement of Explicit Mobile Device Targeting on March 2015
Starting next year, advertisers can no longer target a specific mobile device OS, as Bing Ads will eliminate explicit mobile device targeting by March 2015. Gyan Trivedi, Senior Program Manager of Bing Ads Applications and Developer Platform, announced the upcoming change.
Tablet-related device targeting was introduced by Bing Ads last month, which aimed to combine both tablets and PCs into one device target. However, Bing Ads will be removing this targeting option as it pushes for "complete compatibility between how ad campaigns are managed in Google AdWords and in Bing Ads." While this option retires next year, advertisers can still modify their bids on tablet devices, as it will remain an option on Bing Ads.
Figure 1 shows the screenshot of Bing Ads' current device targeting options, which allows advertisers to freely select which smartphone OS to target.
Trivedi also provided a screenshot of the upcoming change, as presented in Figure 2.
Moreover, Bing Ads also announced App Extensions, which lets advertisers promote their app for download directly from the search results. It will automatically target individuals based on the user's OS and device combination. Trivedi says that the new ad extension will "make it easy for users to discover and install [the] mobile app." It will also improve user engagement as "searchers will be able to discover, download and experience [the] offerings directly through [the] mobile app." The upcoming feature works on Android, iOS, and Windows Phone devices. [See Figure 3]
Trivedi gave advertisers some tips on how to adjust to the upcoming changes before it happens next year.
The best way to prepare for these upcoming changes is to modify all your campaigns to target all devices and to specify your preferred bid adjustment for mobile and tablet traffic.

Starting in March of 2015, campaigns that do not target mobile devices should still be prepared to receive mobile traffic, as all campaigns in Bing Ads will be transitioned at that time to support all devices. Similarly, if you have campaigns that target only mobile devices, you should be prepared to start receiving traffic from visitors on PCs and tablets in March of 2015 if no change is made.
For more information on the impending change—particularly its impact on the Bing Ads API—visit the API Blog or refer to the Feature Suggestion Forum.
What might be the impact of simplified device targeting on Bing Ads? Will these upcoming changes, including the App Extensions, benefit both advertisers and users? Let us know what you think in the Comments section below.

The Marketing Digest Writing Team provides the content you need to keep you well-informed on the latest developments and trends in the digital marketing industry.

Latest posts by Marketing Digest Writing Team (see all)
Comments
comments