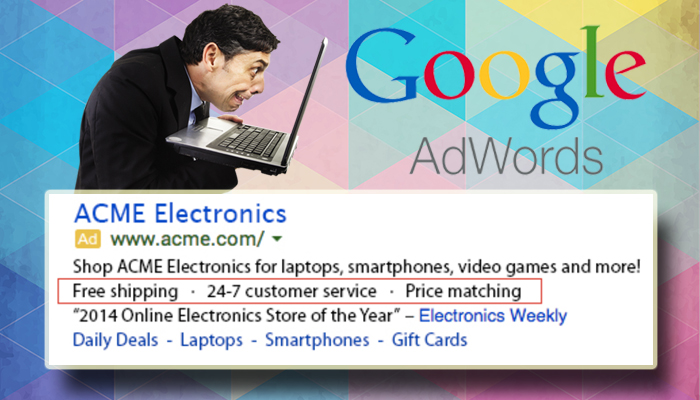 Highlight Additional Information about Products or Services on Google AdWords with Callout Extensions
Google AdWords will soon be getting new extensions that display additional information about advertisers' products and services on Google search ads. Known as "callout extensions," they highlight specific information about a brand or product to help buyers make better purchase decisions. As seen in Figure 1 above, callout extensions include free shipping options, 24-7 customer service, and price matching.
Google states that callouts can affect Ad Rank, draw attention to "important product details and benefits," or highlight the characteristics that differentiate your business from those of your competitors.
According to James Harrower, Senior Search Manager for Hilton Worldwide, callout extensions have made customers more aware of Hilton's amenities, and the hotel chain has seen a 9% increase in its conversion rate. Google also says that callout extensions work well in combination with other ad services, such as sitelinks and call extensions.
Advertisers can begin with two callouts and have a maximum of four, all of which are limited to 25 characters maximum. These can be set up via the ad extensions tab, and set in the account, campaign, or ad group level. The amount of information will vary depending on the level chosen, but Google elaborated that account and campaign level callouts contain more general information, while callouts on the ad group level are much more detailed.
For example, add callouts for "Special discounts" or "Free shipping" to campaigns containing more general keywords like cheap flights or shoes respectively. Or add callouts for product details at the ad group level to support more specific keywords like men's running shoes or 12 cup coffee makers.
According to Google, callouts are rolling out today, and will be available to all advertisers "in the next few weeks." More information can be found here.
Will callout extensions positively impact the conversion rates of advertisers? Let us know what you think in the Comments section below.

The Marketing Digest Writing Team provides the content you need to keep you well-informed on the latest developments and trends in the digital marketing industry.

Latest posts by Marketing Digest Writing Team (see all)
Comments
comments