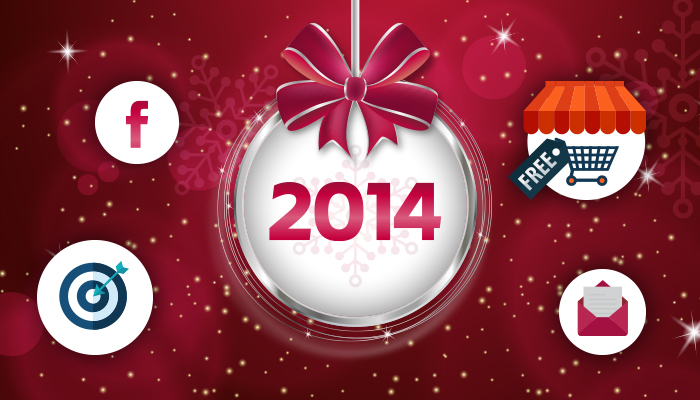 Strategies and Insights that Will Boost Your Cross-channel Holiday Marketing Campaigns
With the U.S. economy showing signs of recovery, retailers can rejoice as national forecasts predict the biggest jump in holiday season sales since 2011. The National Retail Federation predicts that holiday sales will increase 4.1% to $616.9 billion in 2014. Retailers and marketers who are able to capture the hearts (and wallets) of consumers can increase their sales and revenues this year.
According to a new global study conducted by Experian Marketing Services, which gathered data from 379 global marketers who plan to run holiday marketing campaigns in 2014, on average, businesses start ramping up their holiday marketing planning after July. August to October are the busiest planning months, with 55% starting during these months.
Different shopping and marketing trends have been shaping the way businesses plan their holiday campaigns, especially online. A considerable number of marketers are planning to run cross-channel holiday marketing campaigns in 2014—harnessing the power of mobile, email, web, and social to target consumers, identify their best customers, and drive conversions.
The Experian study explores these and other insights.
I. Planning and Timing
While more than half of North American marketers surveyed responded that August through October were their busiest months for holiday marketing planning, globally, September is the most popular month to start planning holiday marketing campaigns in 2014. [See Figure 1]
Additionally, when it comes to allocating overall marketing budgets for holiday marketing campaigns, 67% of North American marketers allocate 20% of their overall marketing budgets at most, while 74% of global marketers do the same.
With November often cited as the official start to the holiday shopping season, Experian notes that many businesses deploy their planned marketing campaigns around this time "across screens of all sizes." North American campaign launches during the first half of November rose to 43% this year, which is "65 percent higher than in 2013." The Experian study also notes that November 1-15 remain the most popular period in the year to launch holiday campaigns worldwide. [See Figure 2]
II. Targeting Your Best Customers
Aside from knowing when to launch holiday marketing campaigns, marketers need to target the right customers (identified in the study as "best customers"). While it's great to get as many customers as possible to patronize businesses, marketers who are able to identify their most loyal customers can gain an edge over their competitors and ensure the success of their campaigns.
Interestingly, 52% of North American marketers stated they were not targeting their best customers in the 2014 holiday season because they considered all their customers to be "potential best customers during that time of year." In addition, 14% of North American marketers stated they lacked the time and resources to target their best customers.
Although different factors would determine who the "best customers" are for each business, there are common factors that help marketers determine their best customers. These are purchase frequency, spend threshold, and length of customer relationship. Moreover, North American marketers place greater emphasis on customer lifetime value (45%) than the length of customer relationship (28%) than global markets do. [See Figure 3]
III. Email Remains the Hub of Marketing Campaigns
As Figure 4 above shows, marketers consider email to be an integral part of their holiday marketing campaigns. Every year, consumers receive tons of emails from different businesses, notifying them of upcoming sales and promotions which they can take advantage of.
The Experian study observed that 71% of online adults are influenced by promotional emails to take "some sort of action." The most frequent action reported by consumers is clicking on website links in emails (reported by 40% of online adults). Moreover, 40% of online adults are influenced to make purchase decisions because of emails they've received from retailers or companies.
Experian notes that email's importance applies globally, with a staggering 91% of marketers stating that it remains the hub of their cross-channel marketing campaigns.
On the other hand, there are some barriers that prevent marketers from running cross-channel marketing campaigns. Figure 5 highlights some of these problems both within North America and the world. Globally, the main impediment to running cross-channel campaigns is budget (44%), though this is only an issue for 19% of North American marketers.
While both sides agree that organizational structure was one of the major impediments, they tended to disagree widely on other factors that prevent the running of cross-channel marketing campaigns (particularly revenue attribution and excessive vendors/agencies).
IV. Marketers Get "Responsive" and "Dynamic"
Mobile's prominent role in people's everyday activities has made it "imperative for marketers to ensure [that] content is viewed easily on any device." Hence, marketers employ responsive design to ensure a seamless browsing experience for consumers regardless of device.
Additionally, the trend of presenting dynamic content (which is content that has been customized based on marketers' knowledge of individual customers) is also impacting email marketing. 38% of North American marketers employ dynamic content, making it the third most popular email marketing strategy this holiday season. Other features that are popular in email marketing among North American marketers are social sharing from email (38%) and abandoned cart notifications (22%).
V. Social Sharing
As social media platforms continue to gain traction, social sharing has become increasingly popular. In order to more effectively target customers, marketers are integrating their social networks into their cross-channel holiday marketing campaigns. Promoting social networks in email is one of the primary social integration tactics.
According to the Experian study, 30 percent of North American marketers enable consumers to share content directly from promotional emails or their websites. This results in businesses persuading their customers to sign up for newsletters in order to be notified of upcoming promos. [See Figure 6]
Of course, social sharing involves social media, and when it comes to increasing traffic to retail sites and capturing new leads, Facebook reigns supreme. In fact, Facebook is used by 70% of marketers surveyed in the Experian study.
VI. The Impact of Free Shipping is too Large to Ignore
Holiday shopping at its core has always been about looking for and getting the best deals from merchants. One way merchants can entice their customers to complete their purchase transactions with them rather than their competitors is by offering free shipping. Free shipping, coupled with promotions, can drive sales and conversions this holiday season.
Marketers Should Channel these Insights into their Holiday Marketing Campaigns
The Experian study highlighted three overall points that businesses can integrate into their cross-channel holiday marketing campaigns:
Don't underestimate the power of targeting your best customers. A business' loyalty program can help reap some of the benefits for the current year and make it a point of focus for the next.
Make your messages mobile. Screens come in all sizes and consumers expect the best experience.
Be smart about using deals and offers in your holiday campaigns. They can be effective, but businesses need to understand their audiences first.
What strategies are you planning to employ in your cross-channel holiday marketing campaign? Let us know in the Comments below.

The Marketing Digest Writing Team provides the content you need to keep you well-informed on the latest developments and trends in the digital marketing industry.

Latest posts by Marketing Digest Writing Team (see all)
Comments
comments