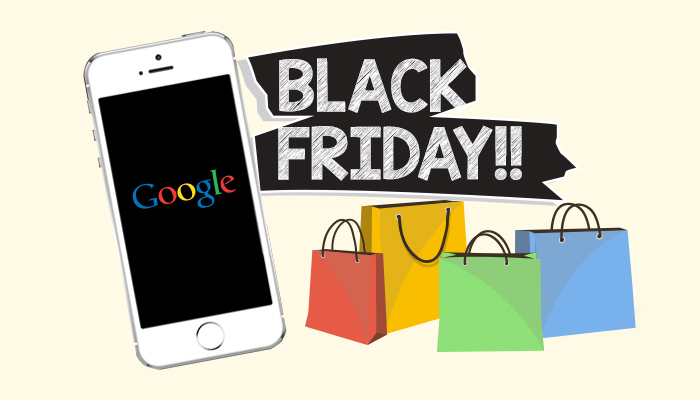 Getting Ready for Black Friday? Google Releases New Mobile Features to Google Shopping
With Black Friday just around the corner, Google is looking to provide some last minute assistance to businesses, as well as shoppers who are getting ready to brave the crowds after Thanksgiving. For the benefit of retailers, Google has "[taken] the temperature of holiday shopping online" and provided some insights into the shopping habits of consumers, as well as the top trending gifts of the season.
Consumers will be more inclined to use their mobile devices this year on Black Friday. The smartphone, in particular, has become "the most powerful shopping assistant" according to Google, with mobile searches more than tripling year over year and showing no signs of stopping. Google Shopping is also sending more mobile traffic to retailers per week than it did during the peak of the last holiday season. Smartphones help consumers research products by showing them customer reviews and product demos, as well as helping them find nearby retailers with products in stock.
Google also used Google Trends to "identify the top trending toys, devices and apparel searches on Google Shopping" in order to get a sense of the hottest gifts that are most likely to sell out this holiday season. According to their findings:
Electronics, like game consoles and tables, continue to be top gifts. Wearable technology like the "fitbit" is also on the rise this holiday season.
"Retro toys" like "Ouija boards," "Barbie Dream House," and "My Little Pony" are up as well compared to last month.
Cold weather clothing such as "Hunter boots" and "Canada Goose jackets" are still popular apparel searches. A notable newcomer is "jogger pants," up 39% from October.
At least 27% of shoppers started looking for Black Friday deals as early as last week. Figure 1 below shows the states and cities with the highest Black Friday searches, which should be noted by businesses in these areas.
Google has also upgraded its mobile features in Google Shopping. Starting this week, shoppers who are searching for specific products on smartphones or tablets will see more detailed product information, product reviews from customers, and information on which stores carry these products. "You'll also be able to rotate selected products on Google Shopping in 360 degrees to see them in more detail." [See Figure 2]
Google hopes that these new features will help lessen the stress of the holiday shopping season, keeping both shoppers and retailers happy.
Will your business take advantage of these new mobile features from Google Shopping, as well as the insights from Google Trends? Let us know in the Comments below.

The Marketing Digest Writing Team provides the content you need to keep you well-informed on the latest developments and trends in the digital marketing industry.

Latest posts by Marketing Digest Writing Team (see all)
Comments
comments