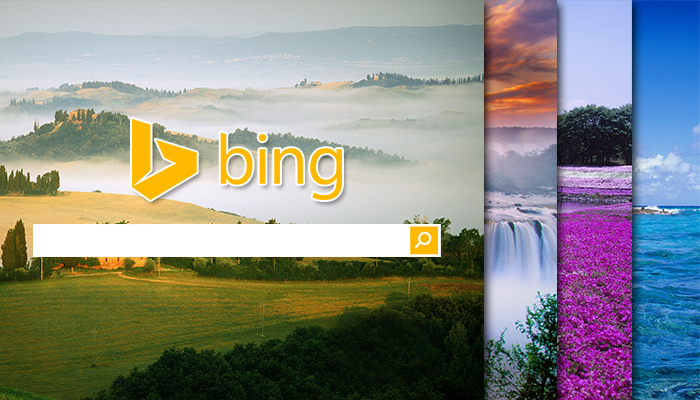 Bing's Homepage Gets High-definition Images & Other New Features
Many tech industry analysts say that the future of the web is high definition graphics and imagery. As smartphones, tablets, and desktops continue to increase in pixel density, web designers have adjusted to these advancements by offering high definition web design.
Bing has responded to these advancements as well. The Bing homepage team recently unveiled a major aesthetic improvement and some cool new features that are aimed at enhancing user experience. The Bing homepage now supports high-definition, wide-screen background images at a resolution of 1920×1080 pixels. [See Figure 1]
Bing has also included an image caption feature that gives users some background information about the featured image, much like the title cards that appear next to works of art in galleries and museums. [See Figure 2] Another cool feature is the download link for those who want to use the images for their desktop.
Additionally, at the top of the homepage, Bing has added a shortcut to the productivity tools of the Office Online Suite. [See Figure 3]
News Carousel Features Trending Topics
Bing also unveiled a "carousel of trending topics at the foot of the Bing homepage," which can be customized to reflect the interests of users. [See Figure 4] Users can customize what appears on the ticker, and they can monitor "news, stocks, weather, or even track a flight right from the Bing homepage." Users who wish to opt out of this feature may minimize it.
Bing will let users customize their homepage experience, from the size and motion of the homepage, to the news carousel. For markets where the "average internet speeds are slower," high-definition backgrounds are not available by default due to their size. This feature can still be turned on via the Settings tab, however.
High-definition backgrounds, image captioning, and the Office Online menu features are now available worldwide. The downloadable wallpaper is currently limited to ten markets, while the United States currently has sole access to the news carousel and customization.
Are you offering high definition imagery and graphics in your web design services? Let us know in the Comments below.

The Marketing Digest Writing Team provides the content you need to keep you well-informed on the latest developments and trends in the digital marketing industry.

Latest posts by Marketing Digest Writing Team (see all)
Comments
comments