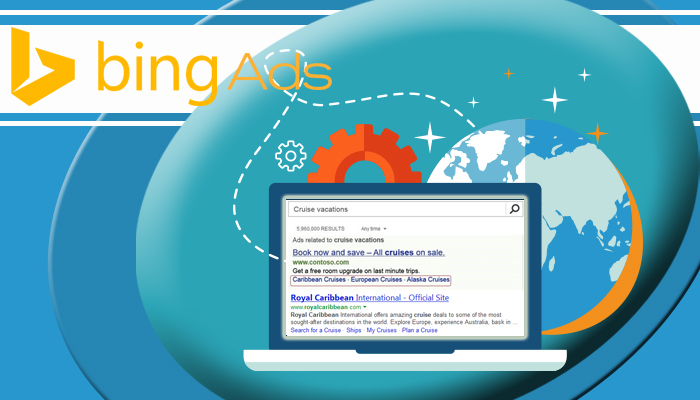 Bing Ads Introduces Dynamic Sitelinks in the U.S.
Bing Ads has decided to follow Google AdWords' lead, as the former recently announced in a blog post the debut of Dynamic Sitelinks, a new feature which creates annotations for ads that don't have specific sitelink extensions. [See Figure 1]
Matt Bisson from Bing Ads wrote, "Like Ad Extensions, Dynamic Sitelinks is another way to help your potential customers evaluate what your web site has to offer prior to clicking through, which saves them time and provides you more relevant customer opportunities. However, Dynamic Sitelinks is an 'annotation', which means that Bing Ads dynamically creates the content for you from content already on your page."
Through this new feature, Bing's algorithm will be able to match your Display URL domain with available links information. "Sitelinks are pulled from Bing's knowledge base automatically, requiring no additional effort. This feature automatically appears at the time the ad is delivered," Microsoft News Center Staff Athima Chansanchai added in a separate blog post.
Advertisers' ads may be a candidate for Dynamic Sitelinks if they haven't set up sitelink extensions and if their display URL domain contains deep link information, which Bing's algorithm uses to make annotations surface. According to the report, Dynamic Sitelinks can increase click-through rates up to 14 percent with no extra work.
For those who would like to opt out of Dynamic Sitelinks, however, Bing said that users can do so at any time by contacting Ads support or their own Account Manager. In addition, any clicks that occur on the Dynamic Sitelinks appearing within an ad will not be charged at all.
Dynamic Sitelinks will start rolling out to all U.S. advertisers, as per the announcement, and will be completed "sometime before the holidays."
What do you think of Bing Ads' latest update? How will this help you drive more traffic to your business' web page? Share your opinions by leaving a comment below.

The Marketing Digest Writing Team provides the content you need to keep you well-informed on the latest developments and trends in the digital marketing industry.

Latest posts by Marketing Digest Writing Team (see all)
Comments
comments