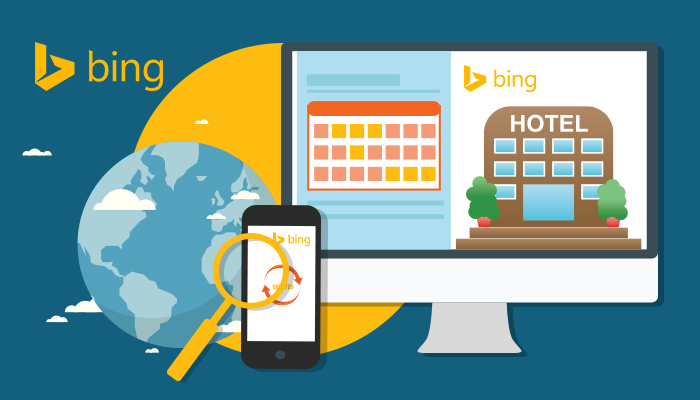 Bing Introduces Hotel Booking to 22 Countries; Improves Mobile Search Experience
Bing has refined its search engine to provide an improved search experience to its users. Yesterday, Bing rolled out even more improvements, bringing hotel searching and booking services to 22 countries and in 14 languages. Bing has also updated its mobile search results, which now include more significant information, to make browsing through search results more direct and functional.
To deliver easier hotel booking services to its users, Microsoft-owned Bing has released its partnership with TripAdvisor to selected countries across the globe. The collaboration enables users to make hotel bookings straight from Bing's search results page, with prices and availability of hotels coming from TripAdvisor. [See Figure 1]
As shown in Figure 1 above, hotel searches will be displayed on the results page, along with a map on the right. Users will be able to check hotel room availability, and they also have access to reviews found under the Reservations option to help them make more informed booking decisions.
This feature is now available in over 20 countries, including the United States, Great Britain, Canada, Australia, Japan, France, Germany, Mexico, Brazil, Spain, Italy, India, Russia, Austria, the Netherlands, Belgium, Turkey, Switzerland, Norway, Poland, Sweden, and Hong Kong.
Bing's mobile search has also received several updates and features, including additional facts and URL Breadcrumb, deep site links, timestamps, and file types for non-HTML pages. [See Figure 2]
Bing wants to help users determine which results could best help them with their query before they click on anything. For example, by adding deep site links to results, Bing is allowing users to get to direct facts faster. Adding timestamps, on the other hand, can direct users to the latest news.
To stay up-to-date with Bing updates, subscribe to our coverage here.
What are your thoughts on these new updates from Bing? Let us know in the Comments below.

The Marketing Digest Writing Team provides the content you need to keep you well-informed on the latest developments and trends in the digital marketing industry.

Latest posts by Marketing Digest Writing Team (see all)
Comments
comments