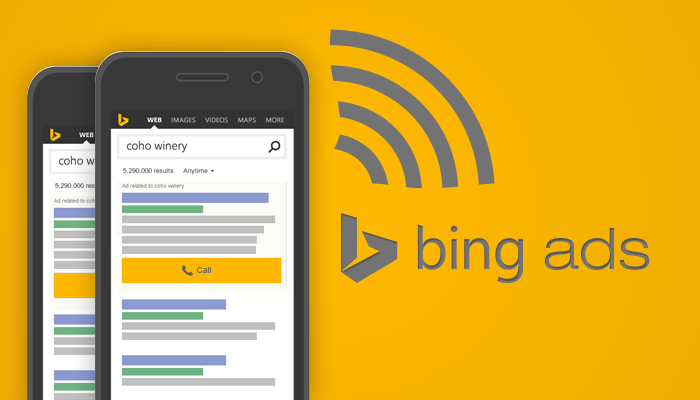 Bing Ads Will No Longer Allow Phone Numbers in Ad Copy; Imposes Call & Location Extensions
By the end of January 2015, if you want to add your business's phone number to your ad copy on Bing Ads, you'll need to use either the Call Extensions or Location Extensions feature. Beginning February 2015, Bing will start rejecting ads that display phone numbers in their ad copy, according to a recent editorial policy change.
From Bing:
Due to a change in our editorial policies, starting February 2015 in the United States, United Kingdom, Hong Kong and Taiwan, phone numbers will only be allowed through the use of Call Extensions or Location Extensions. The ad, title, body, URL, and any other ad extensions, such as Sitelink Extensions, can no longer feature phone numbers in plain text.
While ads showing phone numbers on their copy will still be displayed on Bing Ads, once February arrives it will no longer be allowed on the platform. Existing campaigns, however, will not be affected by the policy update until June 2015.
One of the biggest challenges for advertisers, however, is whether existing ads should be kept as they are without any modifications through June. Any modification to the ads—such as correcting typographical errors or updating text—will cause Bing Ads to apply the new update.
"For example, if your ad features a phone number in the ad text and in March 2015, you edit your ad to fix a typo, you may then experience a rejection based on the presence of a phone number in ad text," Bing elaborated.
When using Call Extensions, advertisers will be charged for a standard ad click every time users click on the "Call" button. The same applies when users click on the "Directions" option provided by Bing's Location Extensions.
The new policy will only apply to advertisers in the aforementioned territories, although Bing anticipates the update to roll out to other global markets in the "near future". In a blog post written by Albert Wang, Operations Policy Manager with Bing Ads, he encouraged advertisers to update their ads and use Extensions as soon as possible in preparation for the coming update.

The Marketing Digest Writing Team provides the content you need to keep you well-informed on the latest developments and trends in the digital marketing industry.

Latest posts by Marketing Digest Writing Team (see all)
Comments
comments