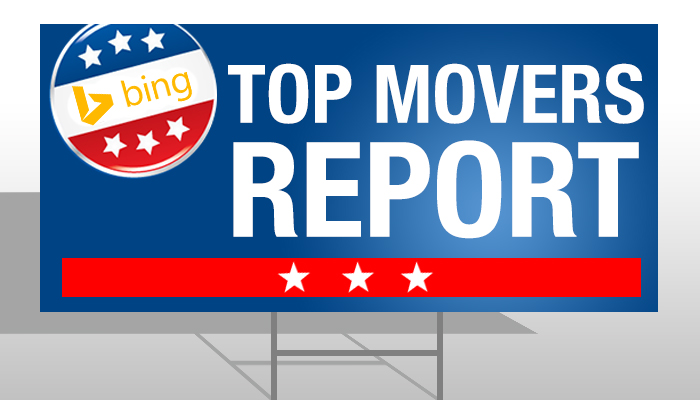 Bing Ads' newest feature, the Top Movers report, can provide advertisers with the possible causes of the biggest changes in their search campaigns based on both user account changes and competitor activities. Jing Li, Bing Ads' Platform Program Manager, blogged about the announcement today.
Bing Ads' Top Movers report enables advertisers to focus more on their search campaign optimization as opposed to analyzing the changes manually. This improved diagnostic tool enables users to determine campaigns and/or ad groups with the biggest changes, and the possible causes that resulted in such changes in just a few clicks.
Top Movers will still inform users of any big changes that can be easily overlooked even when the overall account performance seems to be stable. Above all, compared to other search providers, Top Movers sees through competitor activities (such as bid raises and new ad introductions), which give advertisers a clearer view of how the changes in their search campaigns occurred.
Three types of changes are considered as possible causes:
User account – such as campaign add/deleted/pause/un-pause, bid increase/decrease, budget constraints and editorial status changes.
Search traffic – these are changes in eligible search volume
Competitor data – the bid price can become less competitive under certain circumstances
Top Movers lists a maximum of 10 campaigns with the largest performance change during two specified time frames, which can be modified by users. Through this list, advertisers can easily identify which campaigns have positively or negatively contributed to their accounts' performance variation. Other descriptions include:
Top increases – total positive change from top movers
Top decreases – total negative change from top movers
Other changes – changes from campaigns that experienced less than significant changes
Details table – displays list of top movers that have the biggest impact on account performance
As Bing Ads tries to help advertisers save time and money via in-depth comprehension of their account performances and strategies, the Opportunities tab is another key feature that provides users the solutions they'll need after discovering potential problems. Users are given suggestions for keywords, bids, and budgets, which can help improve their "top decreases" movers.
Bing Ads is continuing to improve this feature. Currently available only to US advertisers, Jing Li said that "more markets will be supported soon." Bing's Ads Platform team will be working on providing a "more granular level of detail" to advertisers, as well as expanding reporting to support metrics, such as conversions.
Advertisers can visit the Bing Ads Help Center or watch their YouTube video to learn more about the Bing Ads Top Movers report.

The Marketing Digest Writing Team provides the content you need to keep you well-informed on the latest developments and trends in the digital marketing industry.

Latest posts by Marketing Digest Writing Team (see all)
Comments
comments