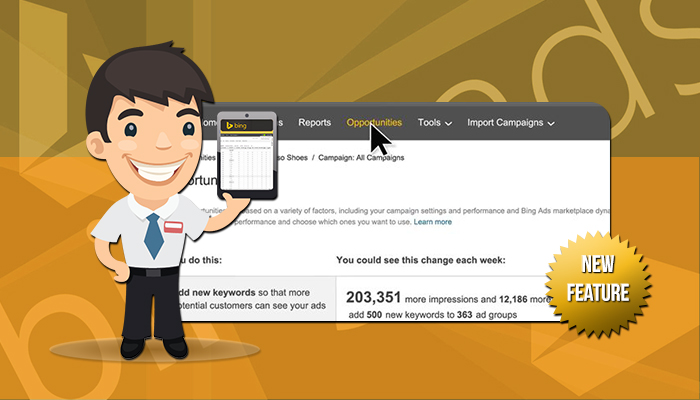 Bing's Newly-Redesigned Opportunities Page Provides Impact Estimates for Suggested Campaigns
Bing Ads has launched the newly-redesigned Opportunities page that automates estimations of campaign changes based on bids, budget, and keyword suggestions with just one click.
Announced by Rachel Li, Program Manager of the Bing Ads Platform, the Opportunities page is now located at the primary toolbar and is redesigned in order to let advertisers see them clearer. In this page, users can see two new options to their campaigns: "If you do this," where they can find suggested campaign changes, and "You could see this change each week" where the estimated impact of the change in figures appears. [See Figure 2]
Some changes that will greatly help advertisers in decision-making include:
New keywords: Keyword suggestions are based on existing campaigns' ads, landing pages, and existing keywords. Bid suggestions and an estimated performance impact of new keywords included.
Broad match to existing keywords: Bing might suggest using some broad match keywords for missing relevant traffic. In order to decide which broad match terms make the most sense, a list of top search terms which might trigger them will be generated.
Bid Increase: If ads can be shown in better positions with a reasonable bid increase, Bing will suggest bids that will help move ads to those more desirable locations.
Budget Increase: If ads are not showing, it could be because of budget limitations. Bing will suggest increases along with details of the potential impact.
With Bing Ads' new enhancements, advertisers can now easily see opportunities for campaign improvements with "more confidence and less digging of data." To further experience the great benefits of improvement estimation, Bing encourages users to check their Opportunities page frequently. It does not always list opportunities, but they are constantly analyzing account performance and marketplace dynamics in order to identify new and better opportunities to grab.
Bing also released a video summarizing Opportunities for advertisers. Additional questions regarding Bing Ads' Opportunities can be found in their Help Center.

The Marketing Digest Writing Team provides the content you need to keep you well-informed on the latest developments and trends in the digital marketing industry.

Latest posts by Marketing Digest Writing Team (see all)
Comments
comments